Monologue Art Museum by Wutopia Lab
Shanghai-based architecture firm Wutopia Lab has completed the 'Monologue Art .' Museum' in China, dedicated to those who desire an escape from worldly distractions. Settled in the park of SEATOPIA in Beidaihe, Qinhuangdao, the project emerges as an ensemble of three geometrical masses floating on a pool, all encircled by a white ring . The design team sought to generate an intimate and silent space where visitors could contemplate or hide their thoughts.
'In an open green space at the intersection of three residential clusters in the Weilan Coast campus, I broke up the 1,300 square meter building into different monoliths combined with walls, corridors, and ambiguous spaces into a triangular-shaped 3,600 square meter place, the Monologue Art Museum.'
all images CreateAR Images, Seven W
the rectangular dance studio, the circular yoga studio, and the oval theater
a place to relax & escape from the bustle and hustle of the city
Commissioned by Sino-Ocean Group, Wutopia Lab (see more here) has created an island in the middle of the bustling town where people can unwind and be alone. The interior is slowly unfolding through a sensory journey. To start this journey, visitors cross the small entrance theater where the light breaks through the corners. The project is defined by the lighting play, as well as the spatial twists. Following, the guests encounter the art gallery, the quiet water courtyard, the colorful yoga room, the tea room, and the dance studio.
While wandering around, the light fades, the paths get narrower, and the stroller almost misses the way. When one exits the building, a flower wall nods the route and crosses the water in the dappled shadows. As the architects mention, 'The water runs through the center and diving the building, seemingly towards the sea.'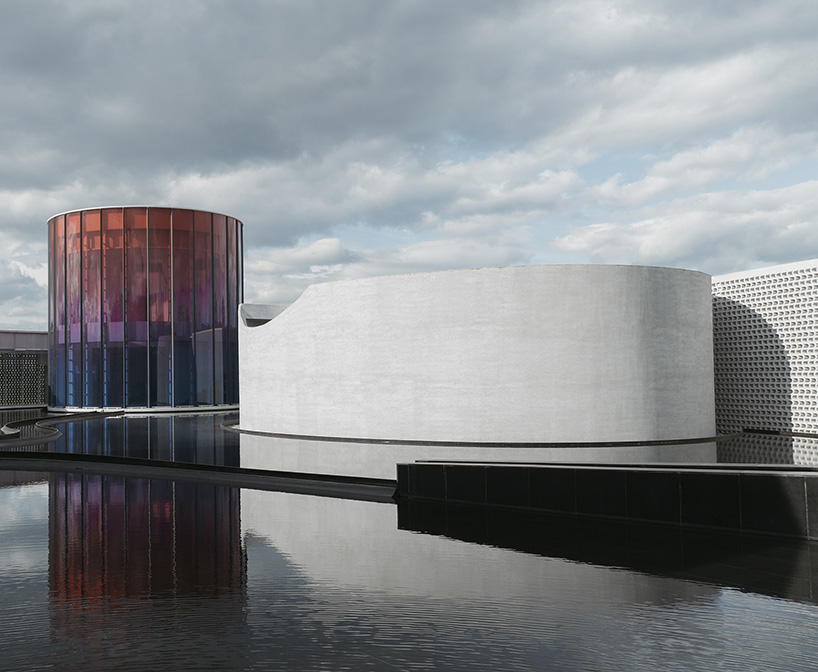 Geometric masses floating on the pool
The project is mainly shaped by three geometrical volumes: The rectangular dance studio, the circular yoga studio, and the oval theater, all symmetrical and regular with excellent seismic performance. The design team set up three seismic joints to divide them into four independent structural units. The expansion and deformation of the extra-long structure were released, reducing the heat stress, and avoiding structural cracks caused by temperature changes.
As for the theater, Wutopia Lab opted for a flexible yet shielded space in order to keep the audience's attention on the performance. Thanks to a curved skylight above the back of the stage, daylight or moonlight spill down like a waterfall. 'There is a crack in everything, that's how the light gets in.'
The dance studio emerges as a translucent glass box 'with enough light but filtering out the outdoor scenery as a backdrop. Behind the mirrored wall of the classroom are the entrance foyer and the dressing room in the mezzanine. The dancers can then dance as above and so below.'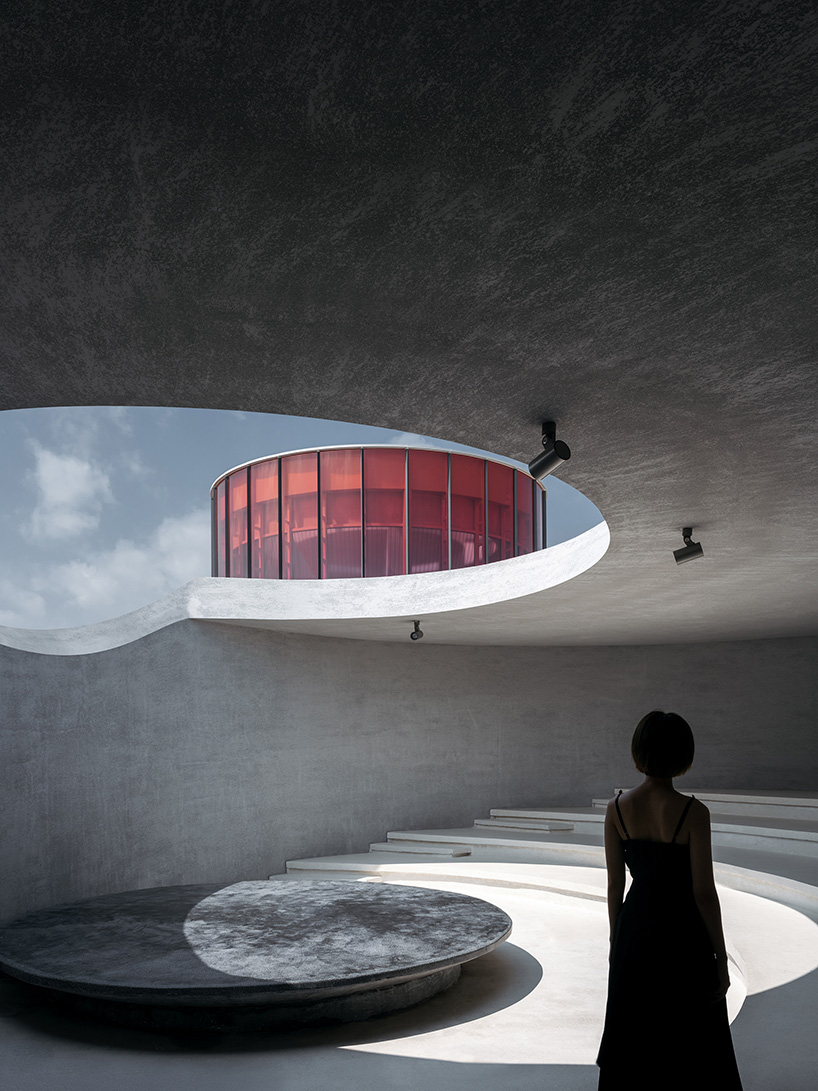 construction and details
The interior and exterior walls of the Monologue are made of glass, solid walls, and flower brick walls. The three are continuous as shifting ink brushstrokes that create the varying boundary conditions of the museum. The architect notes: 'I see the boundary of the Monologue as a shifting ink line. I use white instead of black in the architecture. The starting stroke is the small oval theater. The point is the yoga room, the dried brush is the flower wall, the art gallery is the stroke that connects these, the thin and somewhat fast is the corridor with a nib, then it leans to become a side peak forming a slow thick line , the enlarged art museum, then the dance studio is a stroke slowly back to the nib.'
The courtyard was originally designed to have a white dry-clay-stone floor. During the construction phase, the architects decided to change the white into black, turning the accessible white square into a black pool that could be seen. With this gesture, a new depth in the visual aspect was created.'The white building is surrounded by a deep pool of silence, you stare at it while it stars at you. The surroundings suddenly become quiet.'
'I wanted the glass surface facing the exterior of the courtyard and the museum to have a continuous view without any structural elements. To reduce the self-weight of the structure and the size of the structural elements, the roof is made of a whole cast layer of 40mm fine stone concrete with ribbed patterned steel plates on top to ensure thermal insulation and waterproof performance. An independent column overhanging beam steel units in the narrow corridor and hid them in the walls. And the single-span frame overhanging beam steel structure unit was used in the enlarged art museum space. The maximum overhang is 4.6 meters. It ensures a fully permeable effect with no vertical elements blocking the facade facing the water courtyard.'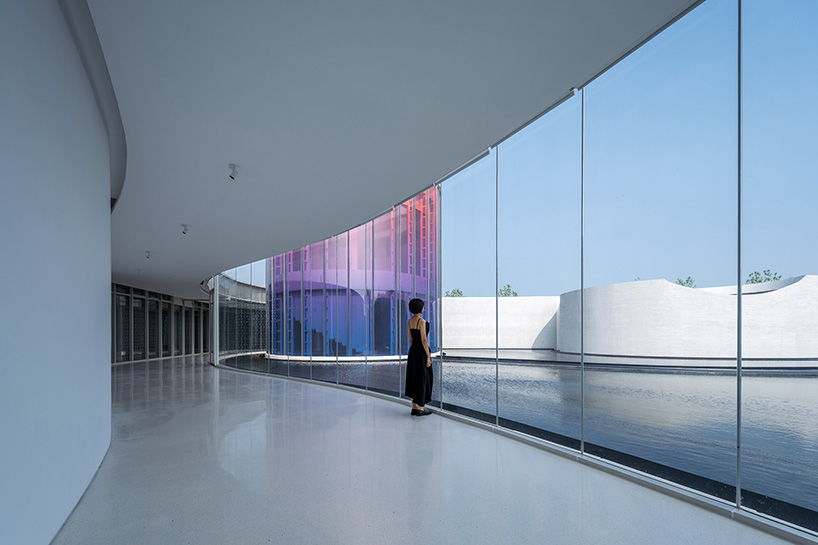 the brick wall either runs double to frame a courtyard or interfaces with glass or solid walls to form a continuous 150-meter-long corridor to wrap around the museum
'The water courtyard has quieted down. When I looked at the white building with a glass façade on the edge of the black pool in the rendering, a new familiarity arose, and the atmosphere of the place was too clichéd. So, I decided to light it up by turning the highest circular yoga room facade into a gradient of stained glass. With a touch of color in the thick ink, there comes a glittering glass fortress.'
'The glass fortress originally had only one floor, but the client insisted on having a changing area, and I could only set up a second floor for it to ensure the visual openness of the first floor. I also wanted the façade glass to maintain vertical continuity. I asked Lao Hu to hang the floor up to disconnect the floor and glass façade. Lao Hu arranged the frame in cross shape to provide horizontal lateral stiffness on the roof, combined with the peripheral ring beam to form a frame to provide torsional stiffness, forming a clear and efficient force system. He used four hanging pillars suspended from the main frame beam and hidden in the closet to lift the second-floor slab. Finally, the staircase was also suspended from the floor slab lightly. The first floor was then opened to the gorgeous light.'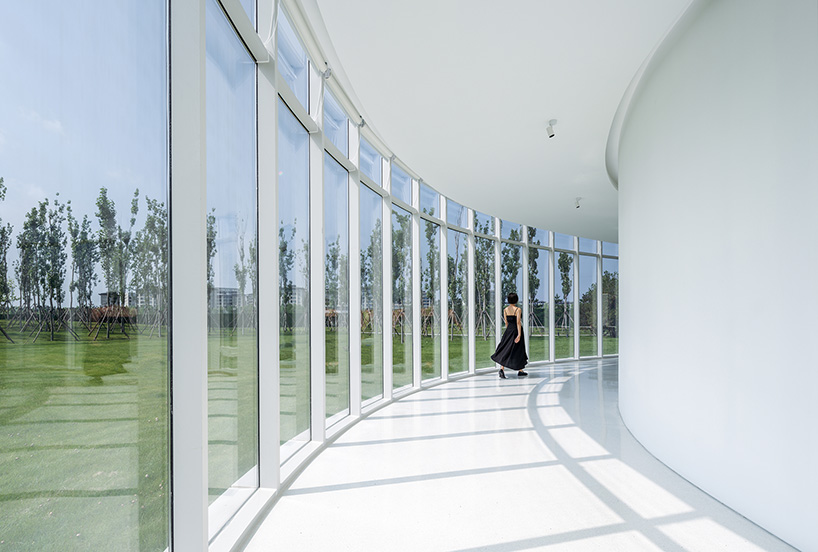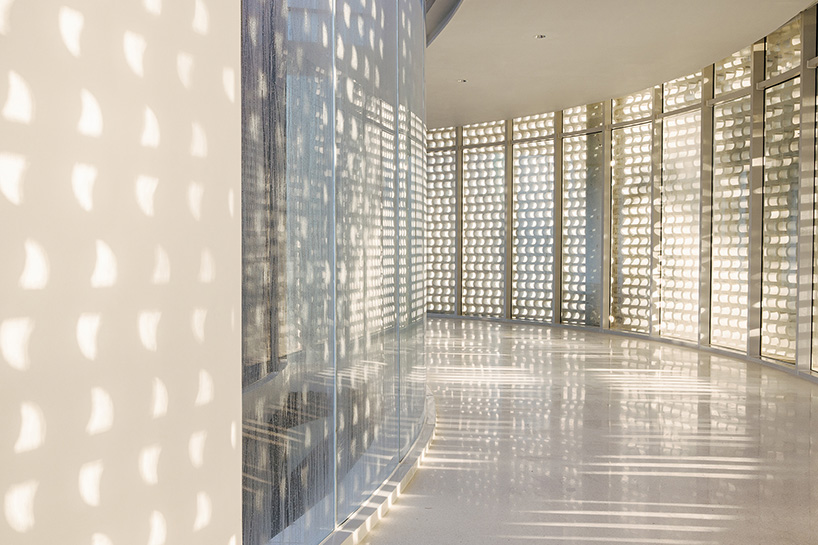 open corridor with shifting lights