COVID-19 has, in A combination with climate change, opened a window of opportunity for rethinking our Australian cities and transitioning them to more sustainable and resilient platforms. To thrive in the face of current and future challenges, all future city initiatives and interventions must aim to build inclusive community resilience and environmental sustainability, as well as promoting health outcomes for their populations, while sustaining jobs and economically vibrant cities. An important factor in enabling such transitions is to think differently about the meaning and function of our urban building blocks. Three interconnected opportunities can provide holistic benefits as well as greater community resilience.
Working from home as another mode of transport
Working from home provides a means of shifting away from private car use, with benefits for the environment, personal well-being and housing markets. Thinking of working from home as a mode of transport provides an opportunity to truly integrate housing, urban form and transportation planning and decision-making.
The practice of working from home didn't begin with the arrival of COVID-19 but rather has been slowly growing in popularity over several decades. In 2016, 5 percent of the working population in Australia was working from home, while in 2021 that proportion rose to over two-thirds. COVID-19 and its associated lockdowns created a step-change in the capacity of the workforce to work from home and in doing so generated a widespread understanding of its virtues and risks. Our recent survey of workers across the Sydney Metropolitan Region from November to December 2021 showed that an estimated 56 percent of that working population intends to continue working from home for at least some of the working week, even after lockdowns have ended.
When feasible, telework is both the cheapest and fastest mode of "commuting" – but risks also exist. On the upside, there are opportunities to reduce air pollution, traffic congestion, emissions, travel times and costs; to change how we use office spaces for increased economic productivity and creativity; and potentially even to change land use as parking spaces and roads are redeveloped. These benefits are more pronounced in denser or more walkable and liveable cities, so telework should be considered in all urban planning, design and infrastructure investments. This could include: updating housing stock and urban forms to increase their suitability for working-from-home practices, with the location and functionality of housing substituting for more roads and transportation infrastructure; improving walkability and cyclability; exploring how these could work in conjunction with alternative modes of transport, such as e-bikes and e-scooters, to support those working from home to use active transport for shorter trips1, 2; and supporting the construction of more co-working spaces in distributed employment hubs, especially to support hybrid modes of working from home (shown to be particularly beneficial for many job types).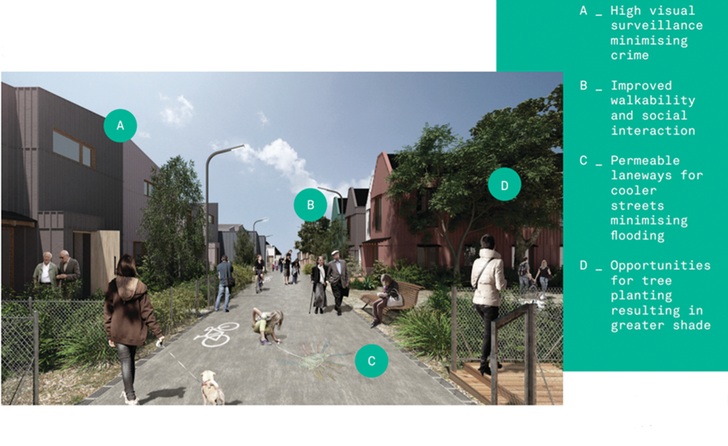 Regenerative urban design for people and nature
The vast majority of Australians live in urban environments. Well-planned increases in the density of our urban environments (for example, constructing the "missing middle" in a way that includes more nature) can help to revitalize suburbs by capitalizing on increased daytime populations, creating a vibrant environment with more amenity for local communities and businesses (among many other benefits). Restoring waterways and natural features and developing new green and blue infrastructure provides opportunities for wellbeing and biodiversity, and it can also provide opportunities for recognizing and integrating marginalized and indigenous knowledges and cultures. However, like all interventions in urban systems, the effects of these changes can be complicated, thus requiring urban developers to consider each city as an urban living system. Cities are, on the whole, not built with the concept of the evolution of space or urban regeneration in mind. Instead, they are built in zones, each of which has a specific purpose. However, much like brownfield development (rezoning ex-industrial to residential), there are innovative business models for sub-division that can support urban regeneration in existing suburbs. One example is Greening the Grayfields, a Swinburne University of Technology-led project that promotes precinct-scale regeneration combined with community co-benefit as part of the design process. This approach to redevelopment is now active in Melbourne, with Maroondah City Council "green-lining" precincts to deliver more sustainable and liveable outcomes. Policies include planners and developers delivering dwellings and community co-benefits (such as additional amenity, flood mitigation strategies and infrastructure, and cultural recognition) as part of the development process, using lot amalgamation and precinct regeneration for all urban areas; and investing in nature-based solutions to reduce temperatures during heat waves, reduce flooding risks, promote health and wellbeing for those working from home, provide more connections with nature, increase biodiversity and facilitate more engagement within communities.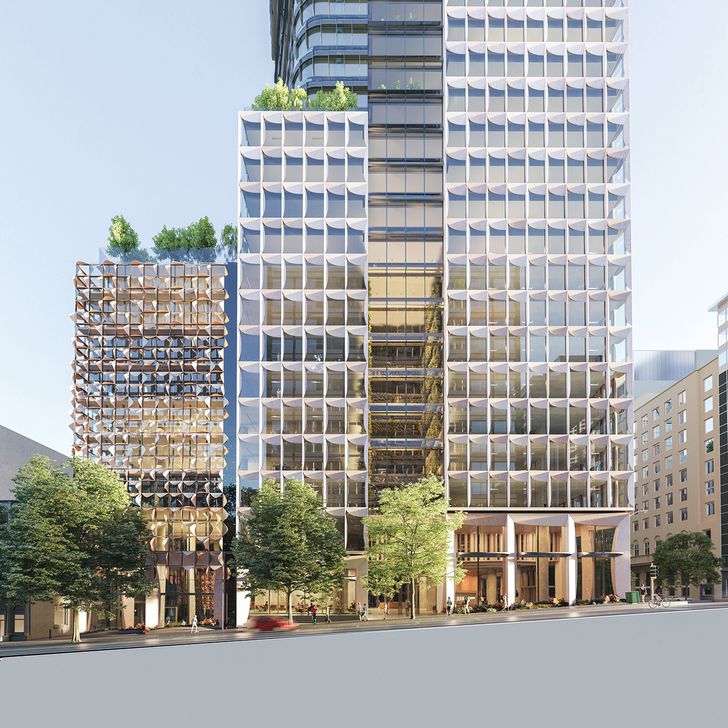 Infrastructure for more sustainable lifestyles
Reimagining how infrastructure services are delivered requires reinvestments in sustainable clean-tech infrastructures and solutions that do not threaten the stability of environmental systems and that encourage self-sufficiency and less reliance on vulnerable and emissions-intensive global supply chains. Such technologies include renewable energy production and storage systems (for example, solar and wind power), electric vehicles, water recycling and investment in urban forests. This should be supported by a circular economy where most products are recycled or reused. Aquaponics, vertical urban farming and automation provide opportunities to reduce reliance on monocultural practices and long supply chains.
Within the next 10 years, our cities should be fully powered by renewable energy and feature sustainable urban water management practices, including harvesting stormwater for non-potable uses and restoring waterways to ecological health. This shift is highly dependent on the urban form, and we need new business models with a mix of centralized and decentralized solutions that support the diversity of situations that exist across the city and capitalize on local geography. This means investing in facilities for recycling of materials, nutrients or water close to where the demand for such materials is (including local up-cycling businesses that manufacture new products using recycled materials); developing new business models for renters and those in apartments to invest in solar or wind power; and enacting a widespread distribution of electric vehicle charging stations to increase uptake of the technology, improve air quality, and reduce loss of life and greenhouse gas emissions.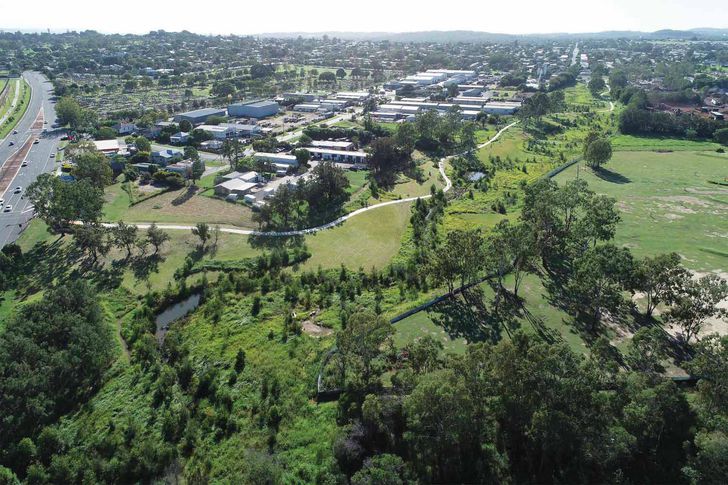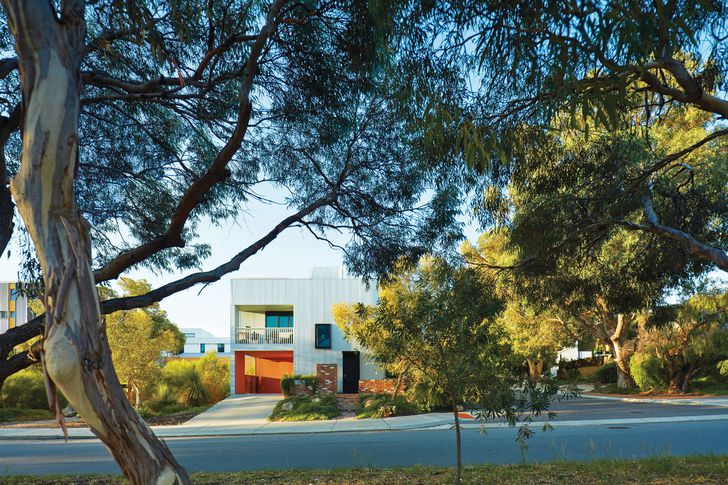 Reframing decision-making
These opportunities present different visions for living in cities. However, our current learning processes, governance and planning; inertia in terms of exploring new possibilities for what cities mean and can be; And current daily practices as we continue to live in cities all present challenges when realizing such visions. While clever design and business models may sometimes overcome these hurdles to realizing such visions, we need to re-examine the values ​​that drive our decisions and the rules and legislation that constrain our options – and we need to expand the kinds of knowledge that we use . This will allow more holistic choices that go beyond that which is easily quantified or imagined. Urban designers and planners need to think about the big picture when envisioning a sustainable future for our cities and find innovative ways to make
it happen.