Best 20 Architects in Vadodara – Here's a cumulative curation of top 20 architects and interior designers of Vadodara which includes most renowned practices to the best of emerging practices too. This list of top 20 architects and interior designers in Vadodara is sure to make it easy for you to select one among them for your next project in Vadodara. Covering residences, commercial spaces, offices, restaurants, etc these architects and designers will leave you baffled with their extraordinary ideas for every kind of space.
1. Dipen Gada and Associates
Dipen Gada & Associates, popularly known as DGA, began as a very modest interior design firm. Gradually with time and every project accomplished, DGA evolved from an exclusive interior design firm to a civil and architectural planning firm and attained the position as one of the respectable and firmsd of India.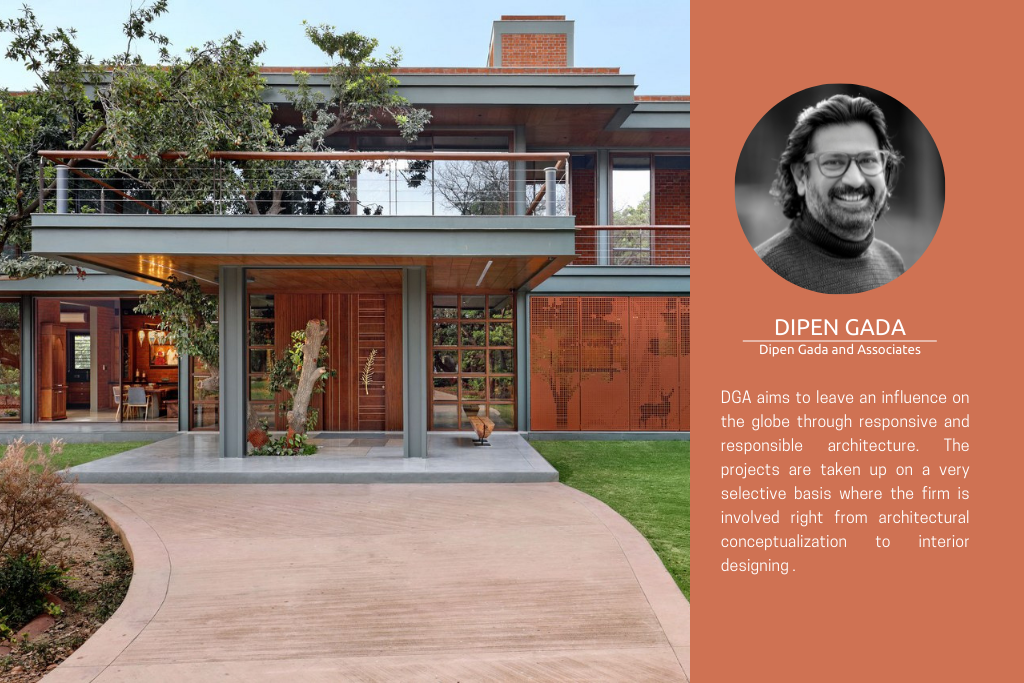 Firm Name: Dipen Gada and Associates

&nbsp
2.The Crossboundaries
Thus enriched by this diverse global exposure, The Crossboundaries is a young firm founded in Vadodara, positioning itself at the intersections of interior design, architecture, graphics and product design. Harsh Boghani, founder and principal architect-designer sees these cross-connections as opportunities for constant innovation and as the studio's name suggests, a relentless pursuit for "pushing the boundaries".

Firm Name: The Crossboundaries
3.Manoj Patel Design Studio
The very projects tendered by him are honored and awarded for various acknowledgments by PAN INDIA, recognition for "Young Practice Interior of the Year" by the Institute of Indian Designers – IIID, LEXUS DESIGN AWARD INDIA – for innovative products from clay roof tiles. Architect Manoj Patel has also been selected under top 50 "Young Architects of the year in India" by Architect and Interiors India magazine.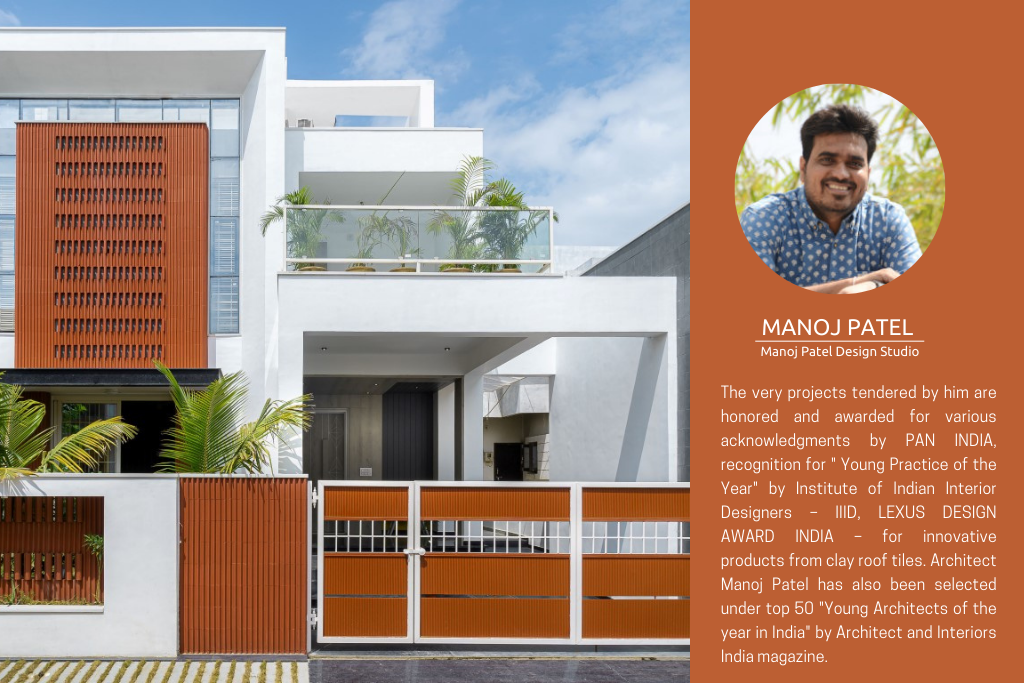 Firm Name: Manoj Patel Deisgn Studio
4.KN Associates
KNA started as an unpretentious firm in 2007, but steered to an unprecedented and exponential success in a short span of time. For some time now, KNA has made its mark in the city with a distinguished portfolio of projects in architecture, interior, landscape and furniture/product design in various scales and typology. Mr. Joshi strongly believes that it's the process that goes behind a design which is worthy of all the drama.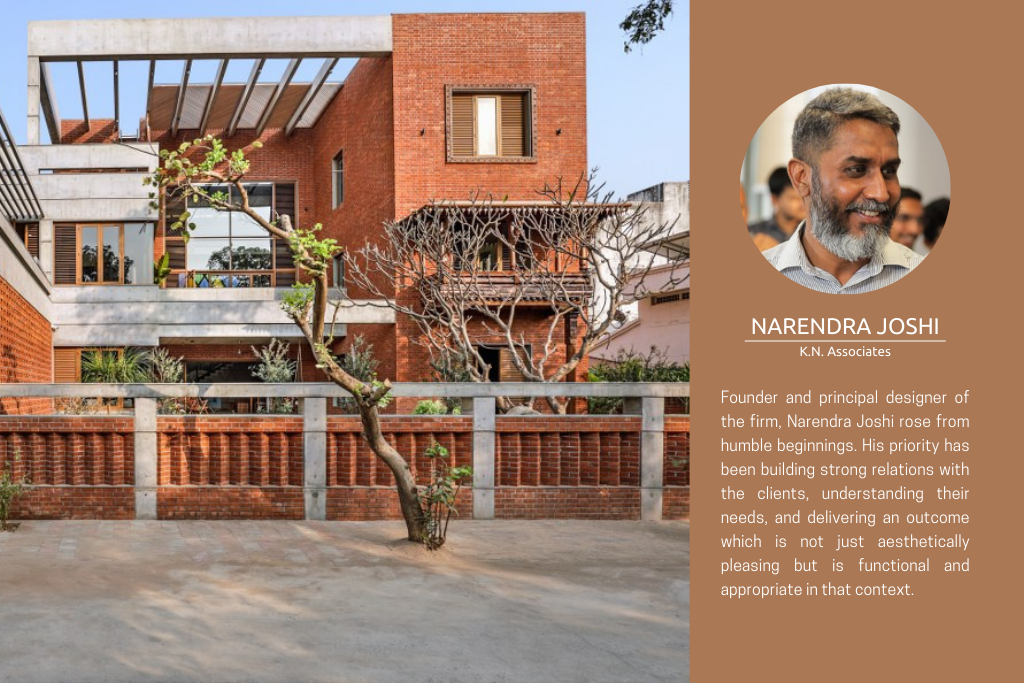 Firm Name: KN Associates
5.Traanspace
Vibrant and simplistic in realism, Vadodara based firm Urvi Shah & Associates was incepted In the year 2009, headed by architect Urvi Shah. The firm majorly deals in providing 360-degree widespread design solutions in architecture and interior design realms in 2019, upon completion of 10 years, the firm decided to take a step further. Traanspace has leaped into creating original and timeless designs by thorough background research for each type of project taken up.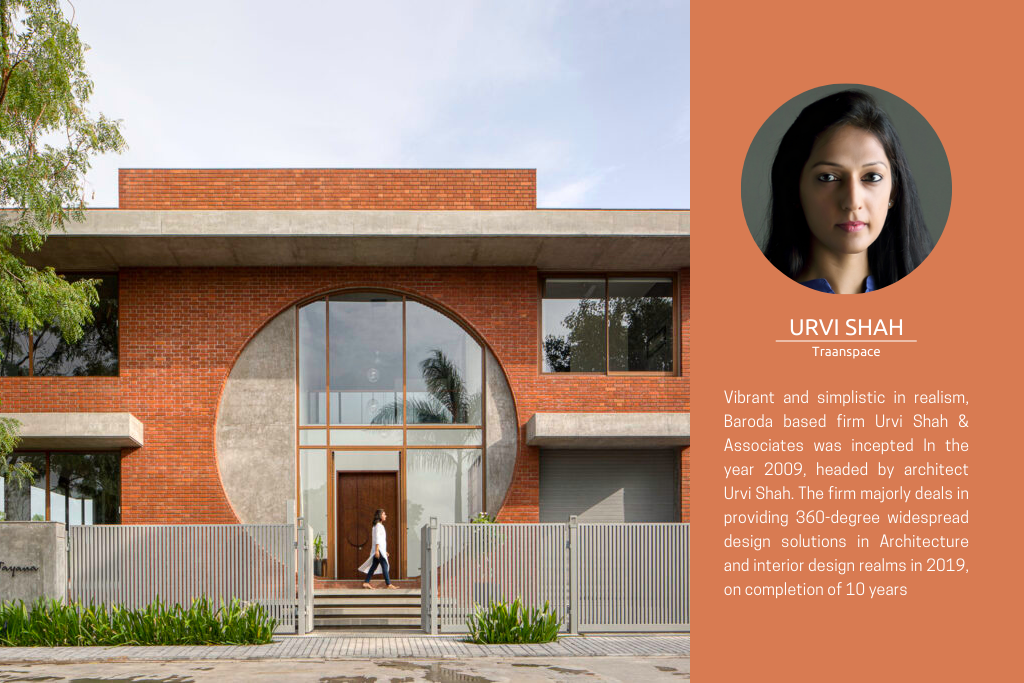 Firm Name: Transpace
6. Associate Design Studio
Associate Design Studio is a renowned architecture and interior design firm specializing in the innovative and progressive design. It was founded by Architect Manoj Sheth in 1980 at Vadodara, Gujarat, India. The firm headed by architect Ruchir Sheth, graduated in architecture from the NDMVP College in 2003. After his graduation he joined his father to make a new venture in the world of architecture.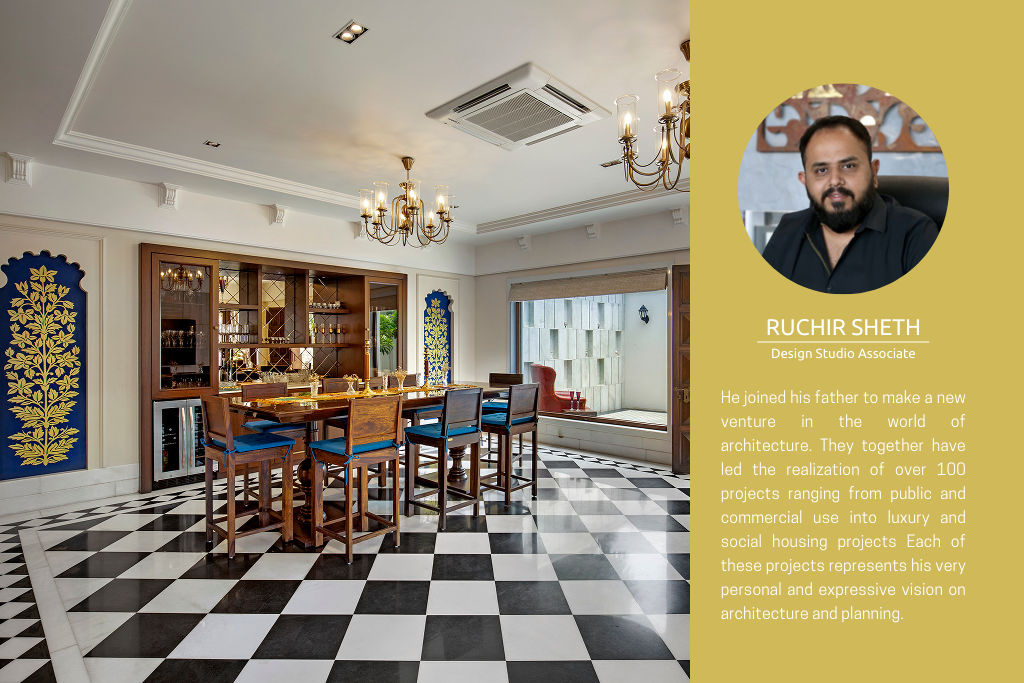 Firm Name: Associate Design Studio
7.Usine Studio
Usine Studio is a design consultancy firm that offers services aimed at the end to end design of spaces. They have a very contemporary outlook towards design and believe in working with clean lines and simple forms. They are dedicated to innovation and creativity and are constantly looking at ways of experimenting with materials in their designs.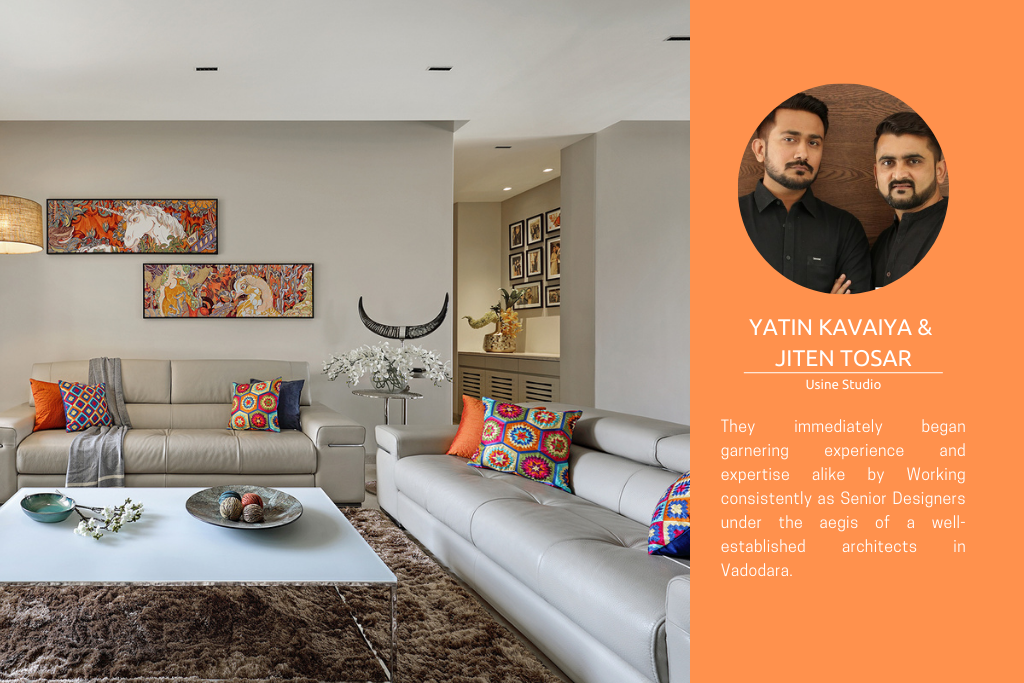 Firm Name: Usine Studio
8. Studio Yamini
Studio Yamini is a design oriented state-of-the-art architecture firm founded by architects Mehul Shah and Mitul Shah who had completed their bachelors in architecture from Institute of Environmental Design, Vallabh Vidyanagar in 2004. In their quest for implementing their vision into reality Studio Yamini was conceived in grown the year 2004. Ever since its inception, it has extensive clientele in commercial, residential, retail spaces, corporate offices, educational, health care, boutiques/fashion stores, hotels and hospitality .

Firm Name: Studio Yamini
9.Studio 7
Studio 7 designs a creation of the classy shell making this place a perceptible home in its own architectural way. Studio 7 designs It is always challenging to design housing for the developer, the designer needs to make it look luxurious as well it should fulfill utilities too.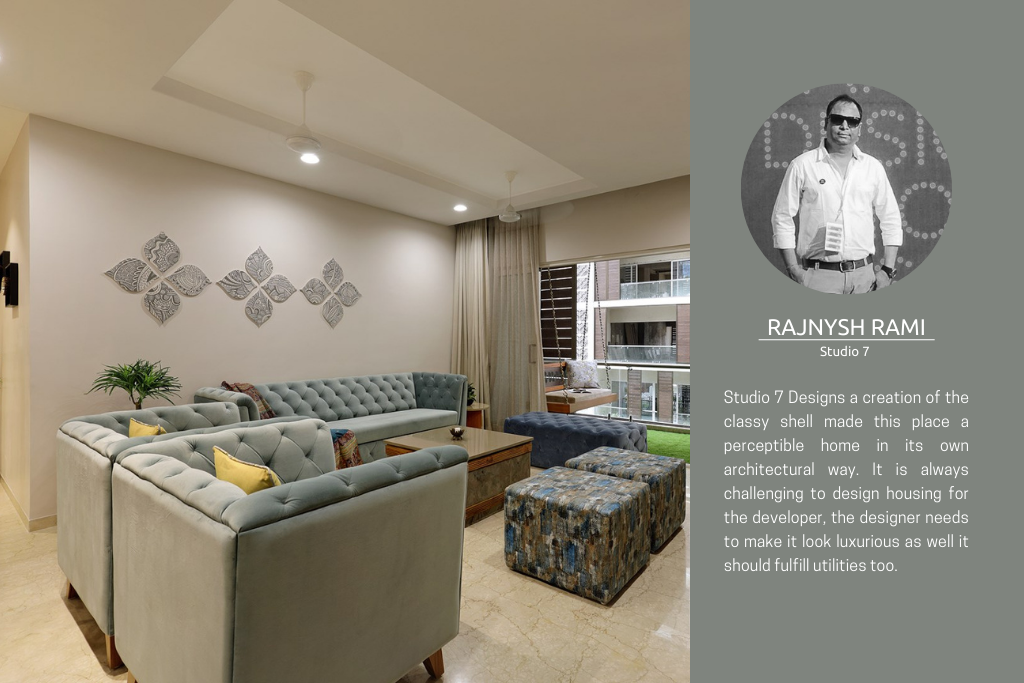 Firm Name: Studio 7
10.A+T Associates
A + T Associates, a leading architecture and interior design firm based in Vadodara, Gujarat, was established by Archis and Tanvi in ​​2010, with a view to explore design. Directions and taking design process as a journey of discovery. A+T is a design consultancy firm that offers services aimed at the end to end design of spaces. The firm has also won several regional and national awards for various residential and commercial projects. The work of A+T is also featured regularly in important architectural and interior publications of India.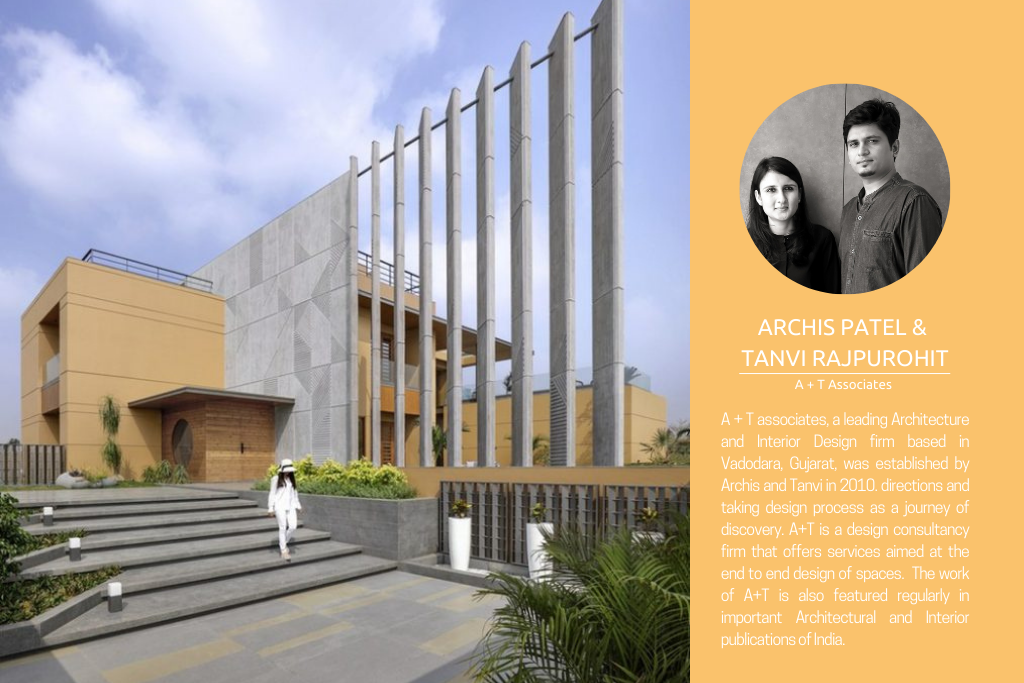 Firm Name: A + T Associates
11. Studio Banyan Tree

Firm Name: Studio Banyan Tree
12.Nishil Design Lab

Firm Name: Nishil Design Lab
13. Studio Imagine
From concept development to completion, we strive on delivering timeless quality.The environments we create & build are carefully tailored to customer needs & satisfaction.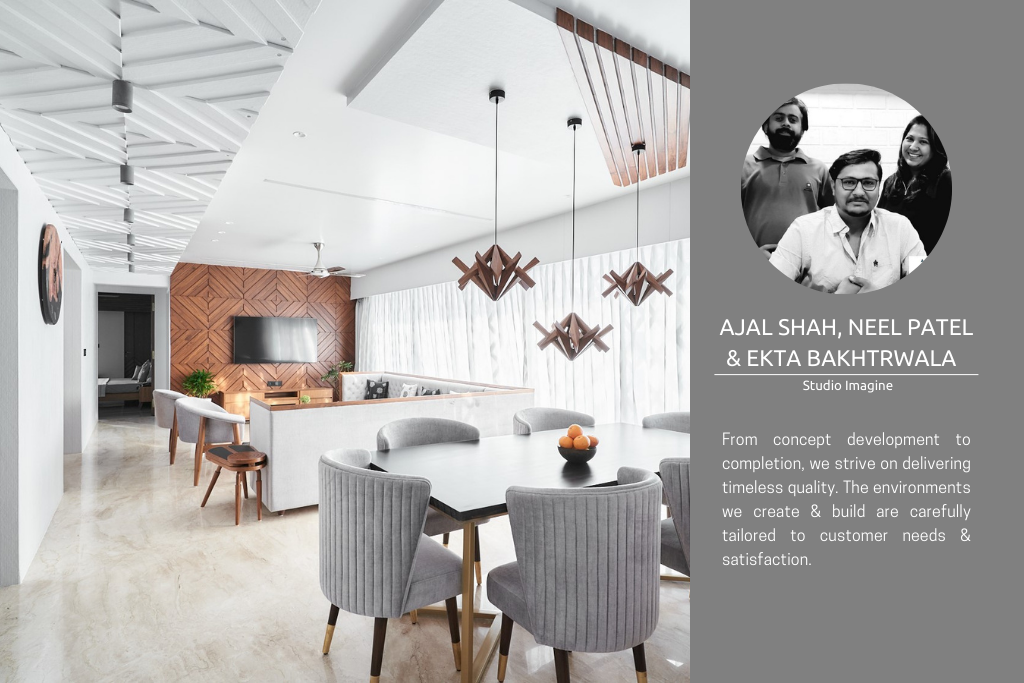 Firm Name: Studio Imagine
14.Uneven
A 15 years young firm, we run on the principles of Yin-Yang – headed by founders and principal architects, Shourya Patel and Dexter Fernandes. Their journey has been an achievement in itself. From growing from a team of four to twenty-five, they learned a lot during this process and that's what keeps going so strong!

Firm Name: Uneven
15.Ekta Kamdar
The journey is more experiential and experimental when the design is not just beautified but also crafted with serenity and logic. The perfect example is this 3 BHK residence located in Vadodara. The area is about 1750 sq ft. this interior design project compels one to ponder upon the brilliance of material used along with exquisite furniture adding to its ambience.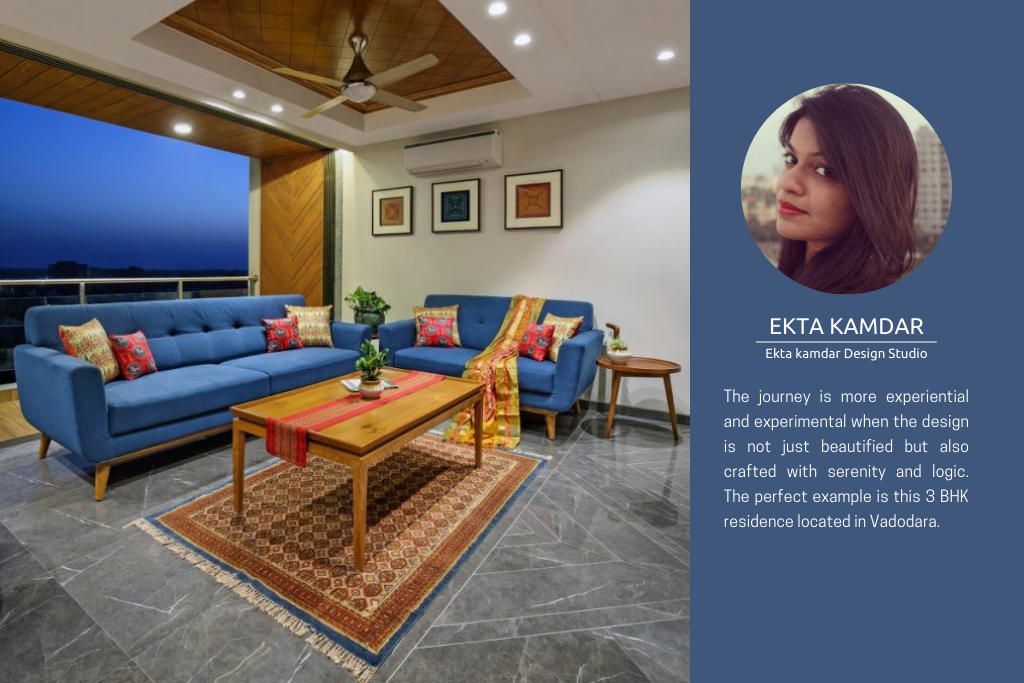 Firm Name: Ekta Kamdar Design Studio
16.De'Uja Design
Their interior designers provide a refined eye for color and materiality, married with clever creativity and attention to detail. Collaborating with architects, builders and landscape designers to ensure a cohesive result, schemes are highly tailored to each individual project and client. The firm's inspirational designs elevate any interior with a personalized aesthetic that embraces the practicality of daily life.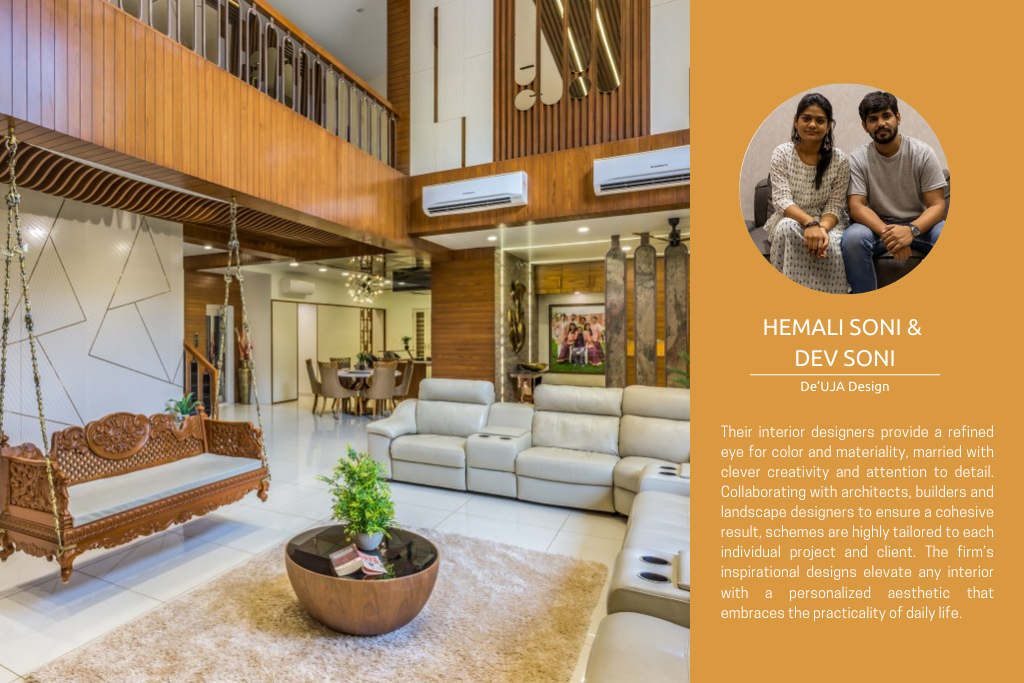 Firm Name: Deuja Design
17.Foresight Associates
Our mission is to enable data-driven decisions by designing custom solutions to answer the most challenging questions – helping leaders shape the future of their brands. We are a small team with global reach, headquartered in Minneapolis with presence in London and Washington, DC.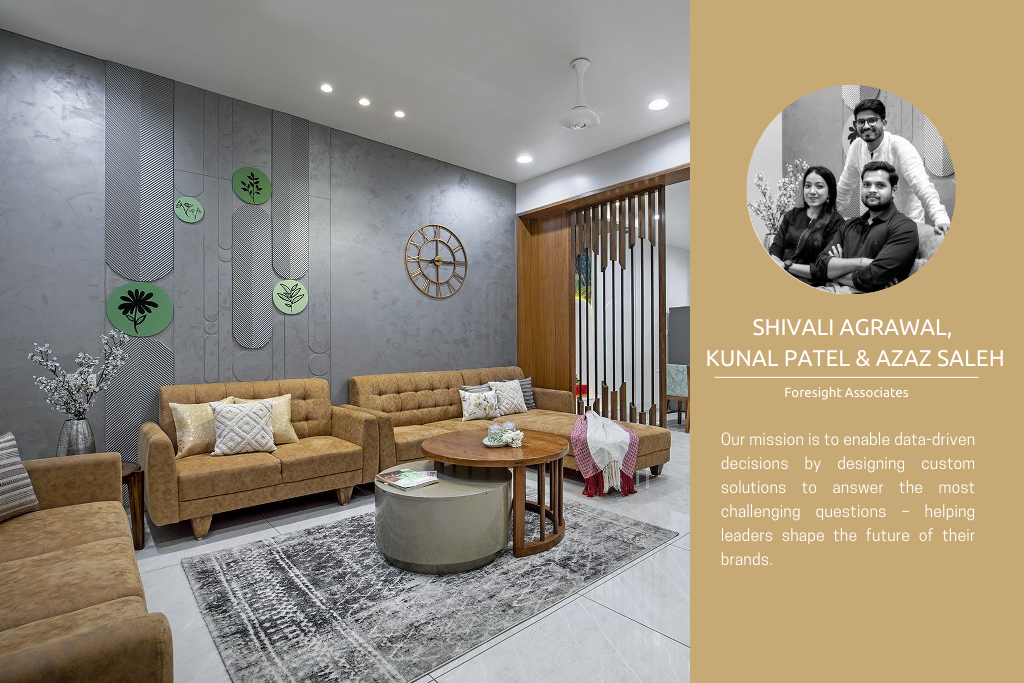 Firm Name: Foresight Associates
18.J Architects
J Architects An outlandish and minimal residence that is picturized for its iconic appearance and warm zestful vibes. Its Interiors is curated by a Vadodara-based firm.

Firm Name: J Architects
19.MS Design Studio
MS Design Studio believes in Minimalistic approach to designing with maximum focus on detailing. Their projects preeminently reflects earthy, modern / contemporary design approach, where each project has its own unique and relevant identity.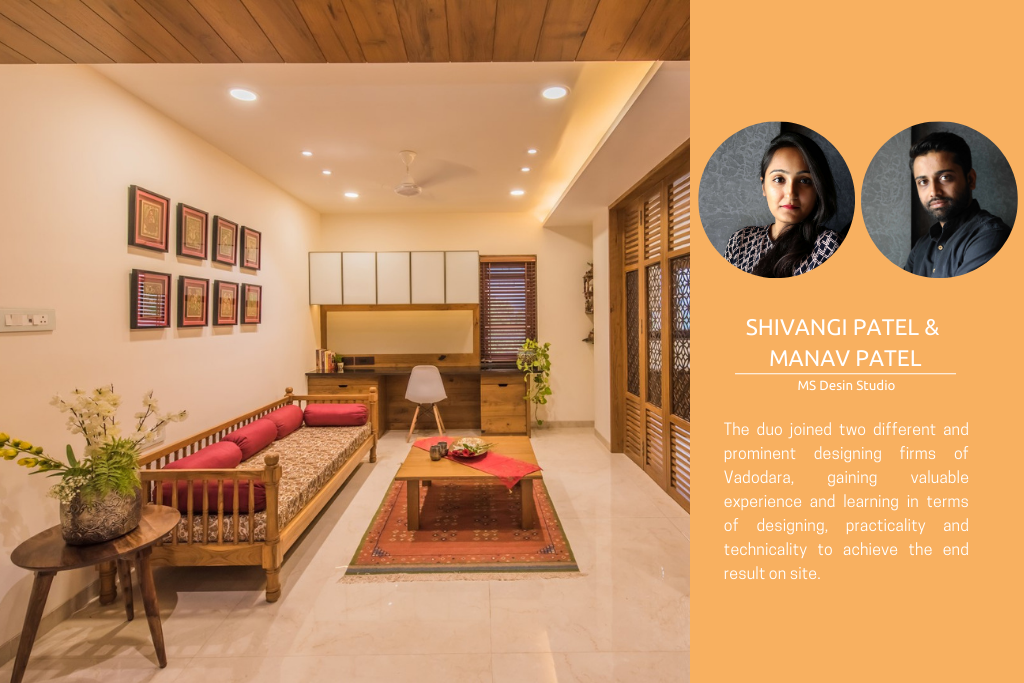 Firm Name: MS Design Studio
20.De'Caves by Chitte Architects
De'Caves by Chitte Architects have been serving since 32 years, and the father-son duo is together since last 5 years unrolling their melded projects of commercial, custom bungalows, retails and corporates eminently setting up their own identity of simplicity and peculiarity. The De'Caves by Chitte Architects and the turquoise tree are different and complete solutions to all design needs.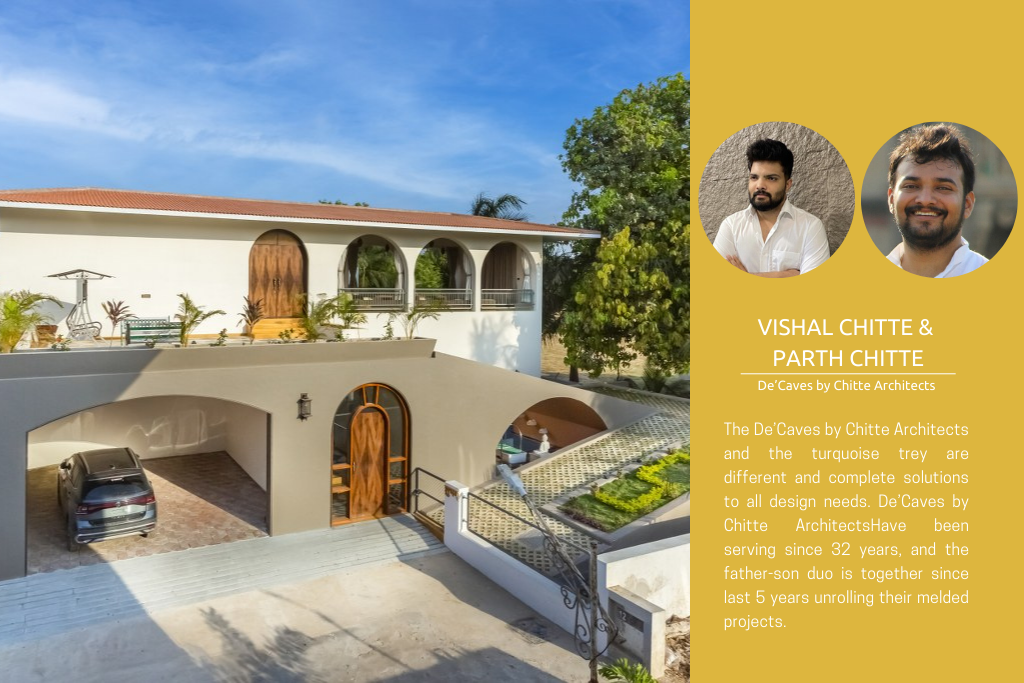 Firm Name: De'Caves by Chitte Architects