Raku Kichizaemon XV Jikinyū of Raku ware
Japanese ceramic artist Raku Kichizaemon XV Jikinyū of Raku Ware believes that the world we think of today is the product of our consciousness: what we want to is what we believe, entailing subjective perception of a personal community. One's consciousness tries to understand two opposing truths, and the more one dwells on such a mindset, the more they invert what is true and what is an illusion. He also states that if people assume their existence and the beliefs they anchor are meaningless, then they are left nothing but a dark void, becoming empty vessels in the fast-developing world.
To make sense of the world people live in, Raku Jikinyū proposes a suggestion: accepting the idea that the movement of space and time is constant. Along with its flow, the self grows. Such ethos appears in how he constantly modernizes the traditional Raku tea bowls of his generational family, instilling his individualistic style while remaining true to the roots that found the decades-age and passed-on traditional techniques and tea wars.

images courtesy of Annely Juda Fine Art (unless stated) | photos by Takashi Hatakeyama (unless stated) | image: Raku Kichizaemon XV Jikinyu, Shin (immerse, soak in), 2022 | header image: Raku Kichizaemon XV Jikinyu, Ryu (soaring peaks, mountains upon mountains), 2022
Raku Ware from the Sancai ware of ming dynasty
Raku ware was started by Chôjirô, the forebearer of the Raku family during the Momoyama period in the mid-16th century. The collection of tea ware circles back to the sancai ware of Ming Dynasty China, a type of Chinese pottery that uses glazes or slip in three colors (mainly brown, green, and cream white). During the Momoyama period, the pottery based on this three-color sancai glazing came into production around Kyoto, and Chôjirô was one of the potters practicing such techniques.
Thanks to Ameya, Chôjirô's father who brought sancai techniques from his native country China, Raku ware saw its beginnings that still live today. Although it draws from the sancai ware, Raku ware has developed its personal glazing method characterized by the use of monochrome black or red glazes, the red being the color of the red clay body. The tea ware poses as a direct reflection of wabi aesthetics, one that has been handed onto the generations that followed including Raku Kichizaemon XV Jikinyū.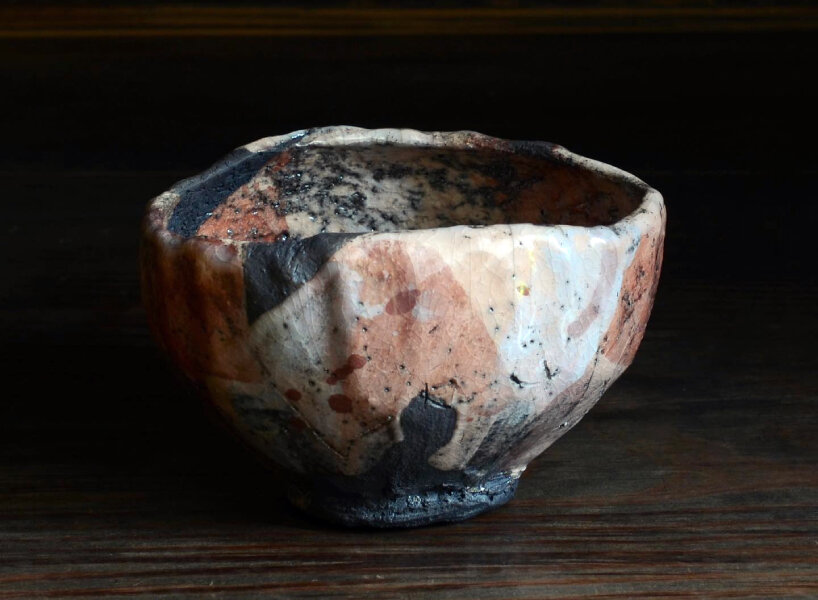 raku tea bowl made in loubignac | image courtesy of Raku Museum
Raku Jikinyū finds his raku ware style
Raku Jikinyū was born in 1949 as the eldest son of Raku Kakunyū (he assumed the name Jikinyū on his retirement from the Raku family headship on July 8th, 2019 and passed it on to Kichizaemon XVI, his eldest son and the 16th-generation successor of the title ). He studied in Italy after graduating from Tokyo University of the Arts in 1973, and in 1981, after the death of his father, succeeded to the Raku family headship as Raku Kichizaemon XV.
As the 15th generation of the family founded by Chōjirō during the Momoyama period some 450 years ago, he has devoted his career to marking his personal, modern signature to the traditional tea bowl format of Raku tea wares, a testament to his belief in a constancy . His style is characterized by sculptural modeling achieved by bold trimming and the use of the yakinuki firing method.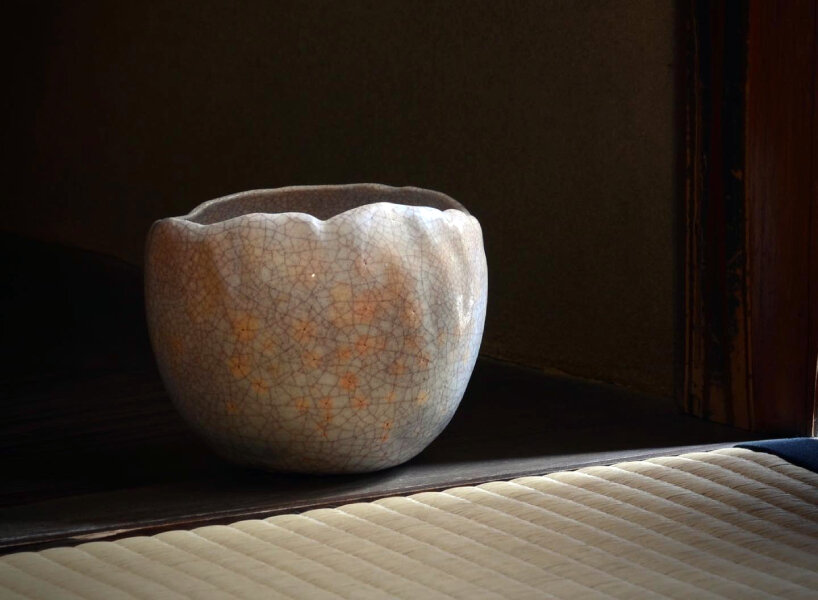 white raku reki glazed tea bowl named rika (pear blossom) | image courtesy of Raku Museum
White rock series by Raku Jikinyū
In his exhibition at Annely Juda Fine Art earlier this year, Raku Jikinyū presented 20 tea bowls from his recent White Rock series. The two-toned tea bowls are shaped by hand instead of being thrown on the potter's wheel. They are drawn out of the kiln mid-firing and cooled off out of the heat.
The ware serves as a container to drink whipped or matcha tea from during a tea ceremony. Gone are the typical monochrome red or black palettes of the tea bowls with Raku Jikinyū's style of geometric shapes and lines in black over the cream-white rock body. Raku Jikinyū admits he has been slowly stripping the ranges of colors he often used from his new works. Blood red fades in the background, and green, blue, and rust red gradually follow.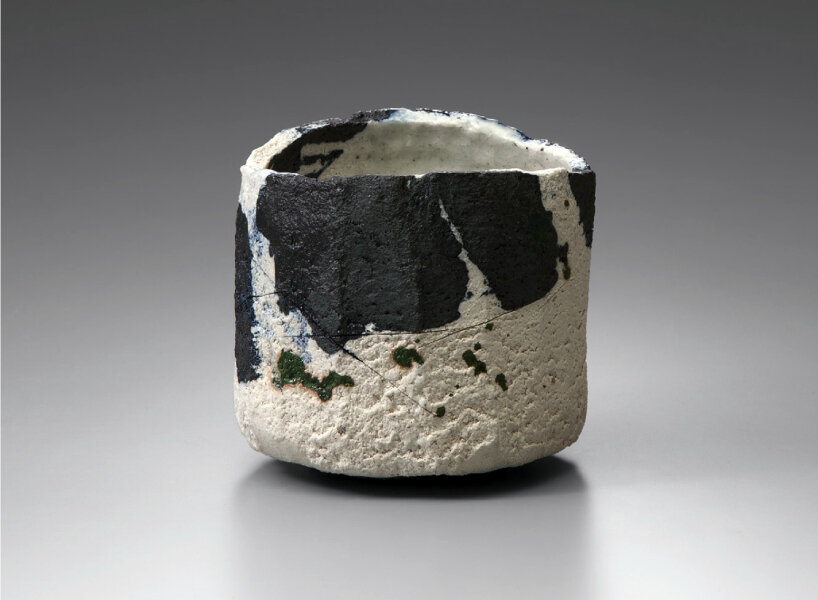 Raku Kichizaemon XV Jikinyu, Kan (clarity), 2022
Looking back to Raku Jikinyū's previous creations
Perhaps what Raku Jikinyū means pivots back to his black Raku tea bowl named 'Shûgiku' that he made in 2000. It marks the entrance of his individual style from the previous Raku generations through the uneven rim that forms waves before they lightly fold inside. A tint of light greens on the pitch-black texture emerges of the tea bowl to confer it a modern look.
Two years before this, he created Raku tea bowl with reki glaze named 'Rika.' Its globular shape fits in the cupped hands while its white glaze texture tinged with red endows the bowl a warm charm. Somehow, this tea bowl resembles a bloomed tulip without a stem. Five years before this, the Yakinuki-type black Raku tea bowl named "Joka" seems to be a prelude to the ceramic artist's White Rock series as the bowl displays a split of colors: golden green on the upper half while cream white at the bottom . Lines of golden green and black drip all over its body, a resemblance to the tea bowls of the White Rock series.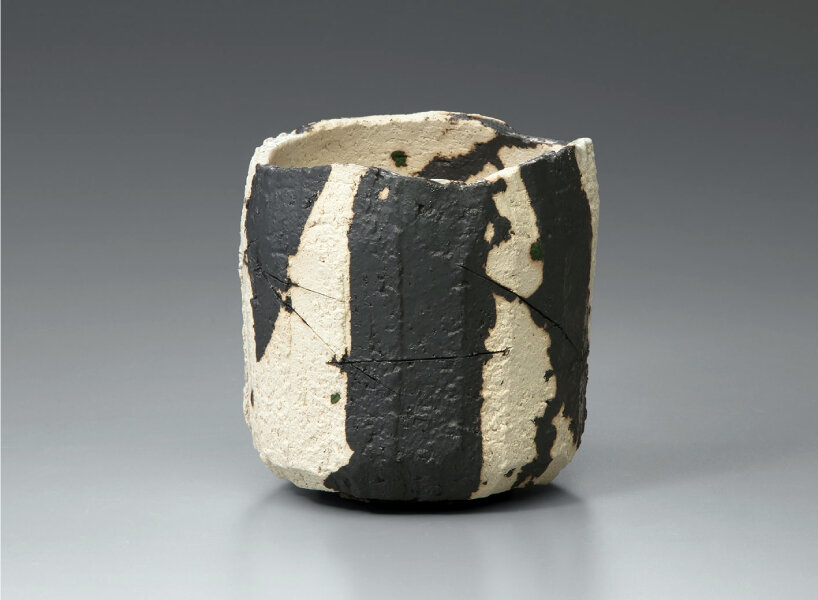 Raku Kichizaemon XV Jikinyu, Sai (white and pure, tall and steep), 2022
Raku Jikinyū reflects on his interaction with the outside world
'The question of whether or not tea bowls are works of art is futile and irrelevant,' writes Raku Jikinyū in his essay for his exhibition at Annely Juda Fine Art earlier this year. 'What concerns me is that, as an individual born into a modern world that places so much importance on individualism, I can feel so alienated, so unsure of my identity, and so rootless.' The struggle of being alive makes the ceramic artist want to cry out in pain, as he puts it.
'As I am not a social scientist, I am not able to analyze and explain the workings of the world. I am only able to gaze deeply into myself and try to believe that what is reflected within me through my interaction with the outside world is true and real," he continues. Going back to how he perceives people perceiving the world, contrasts and complements seem to form the paradoxes of the ceramic artist. These opposing holds in the face of modernism, however shape they may take place, underline the Raku tea bowls Raku Kichizaemon XV Jikinyū has created.