meet the citroën oli, a new zero-emission mobility concept
For Citroënpredicting the future of affordable personal mobility is an obsession, and the success of its AMI model has provided the impetus to take 'unconventional' to a new level in the conceptual and all-electric OLI. Designed as a striking and innovative 'laboratory on wheels', this new vehicle seeks to move the needle for family mobility and say 'enough' by bucking industry trends for heavier, more complex and expensive electric cars. Rather than being a 2500kg 'palace on wheels' filled with screens and gadgets, OLI proves that with enough of the things customers need and want, supported by the inventive use of responsible materials and a sustainable production process, the social need can be met for Inexpensive yet desirable zero-emission mobility that enables multiple lifestyles.
While it appears substantial, oli is neither heavy nor cumbersome – its target vehicle weight of around 1000kg making it significantly lighter than most comparable compact SUVs. As a result, its all-electric powertrain needs only a 40kWh battery to deliver a target range of up to 400km. By limiting top speed to 110km/h to maximise efficiency, excellent consumption of 10kWh/100km is realistic, and recharging from 20% to 80% takes just 23 minutes.
all images courtesy of Citroën
striking, all-electric, and unusally versatile
Striking and clearly making a statement, the Citroën OLI boasts an unconventional stance and silhouette that exudes personality, productivity and positivity in a footprint similar to a compact SUV at 4.20m long, 1.65m high and 1.90m wide. '[It] can be whatever it needs to be – family limo, urban explorer, adventure vehicle, workmate, even an extension to the family home thanks to its ability to power everyday appliances, help in the event of a power cut or provide a platform for cleaning windows ,' explains the company.
The aesthetic approach has been deliberately exaggerated to reinforce functionality and versatility, distinguishing itself with its playful use of color highlights, bright trim materials and vivacious patterns that advocate opportunities for personalization. 'We're not afraid to show you how the vehicle is put together, so you can see frames, screws and hinges for example. Embracing purity allows us to design differently and challenge everything. It's like taking an analogue approach to many things that have become digital today,' adds Pierre Leclercq, Citroën Head of Design.
A prime example of this is how OLI can enable an electric lifestyle beyond its capability as a form of zero-emission mobility. By supporting smart 'Vehicle to Grid' (V2G) capability, the vehicle can store excess energy from home solar panels, selling this back to energy suppliers, as well as helping to manage power issues when there is peak demand or an outage in the grid . It can also perform as a home away from home thanks to its 'Vehicle to Load' (V2L) capability. Considering its 40kWh battery and a power socket output of 3.6kW (the equivalent of a 230v 16amp domestic socket), it can theoretically provide power to a 3000 w electric device for around 12 hours.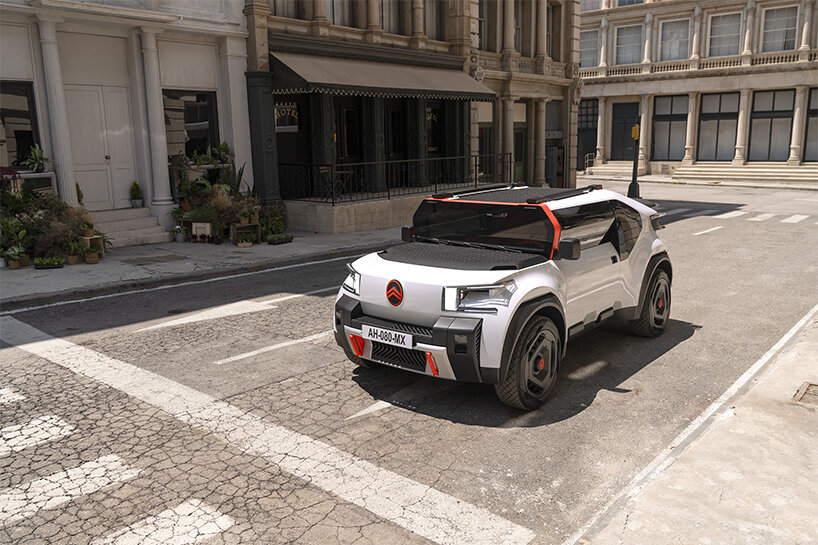 Another striking feature is the versatile platform-roof that tops the vehicle. Co-created with BASF, it is made of recycled, corrugated cardboard formed into a honeycomb structure sandwiched between fiberglass reinforcing panels, eacg coated in Elastoflex® Polyurethane resin covered in a protective layer of tough, textured Elastocoat®, often used on parking decks or loading ramps, and painted with BASF RM Agilis® paint. The panels are very rigid, light and strong – so strong that an adult can stand on them – and weight is reduced by 50 percent when compared to an equivalent steel roof construction.
Their versatility and durability open up a world of possibilities for owners to enjoy work and recreation — from using the roof as a ladder to a platform to mount a tent. Load carrying versatility is not compromised either, as roof rails each side of the roof panel allow owners to attach accessories like bicycle racks and roofboxes for family vacations, while below the bonnet panel are neatly detailed storage areas in including compartments for charging cables plus personal and emergency items.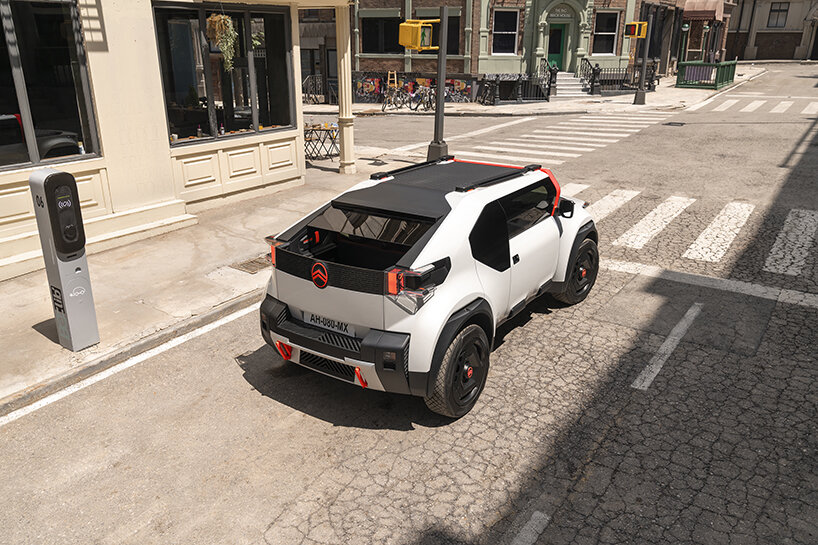 HORIZONTAL MEETS VERTICAL in citroën oli
Making a conscious decision to create flat surfaces because of the resource and materials targets allowed the team to experiment with the contrast of vertical and horizontal design elements, for example in the glass and lighting details. The windscreen is vertical because it's the shortest distance between top and bottom and uses the smallest amount of glass. As well as reducing weight and complexity, the smaller screen is less expensive to produce or replace and lessens the exposure of occupants to the effects of the sun. It is also estimated to help reduce the power demand oli's modest air conditioning system would make on its batteries by up to 17%.
That said, to aid efficiency, oli features an experimental 'Aero Duct' system between the front section of the bonnet and the flat top panel which blows air towards the screen, creating a curtain effect to smooth air flow over the roof. The eye-catching windscreen frame is finished with a bright 'infra-red' wrap – a new signature color Citroën will use in conjunction with a new brand identity. The contrast between horizontal and vertical is evident in the rationally thought-through side panels and glass. The front doors follow the example set by Ami and are identical on each side, though mounted differently. They are lighter, yet still strong, and much easier to make and assemble.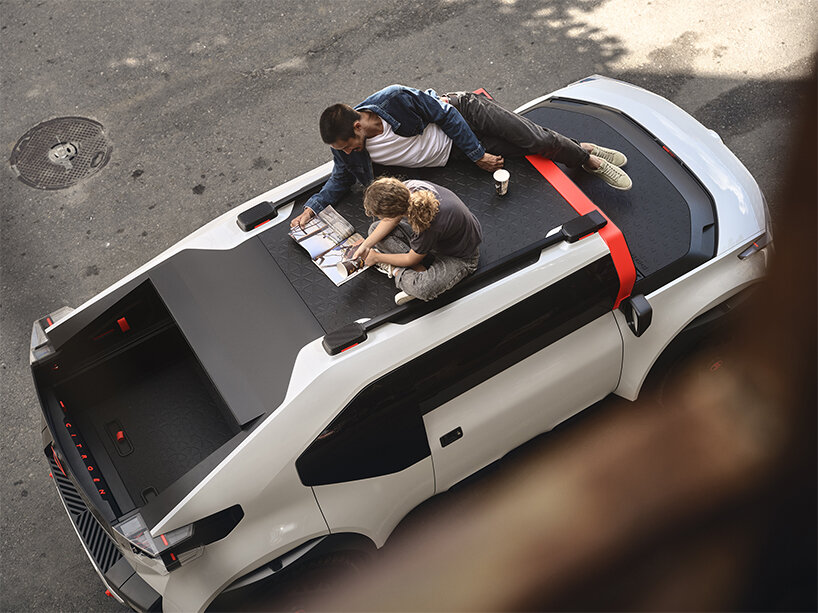 versatile platform
Reducing complexity and simplifying construction saves 20% in weight per door compared to a typical family hatchback. Half the number of components is required, and around 7kg per door is saved by the removal of the loudspeaker, soundproofing material and electrical wiring. The external door panel is simpler to stamp and is designed maximise interior storage. Gentle curvatures flow up the sides of the vehicle, and into the top of the side glass as it tumbles home to the roof. Large, horizontal windows are tilted slightly towards the ground to help reduce the effects of the sun, and manual, easy-to-operate "flip up" pantograph opening sections, similar to those used on Ami, provide fresh air ventilation. The narrower rear doors are hinged at the rear of the vehicle and use vertical glass to give rear passengers more light and visibility. The change in form between the front and rear doors also gave an opportunity to add a passive air intake providing ventilation for rear seat passengers.
Access to the spacious cabin is wide, uncluttered and unhindered with both side doors open – ideal for when the driver needs to get straggling family members loaded efficiencies. Front and rear lighting modules are, again, uncomplicated but highly distinctive, and also play with the contrast between two horizontal lines and one vertical section. This approach will be evolving further as a distinctive Citroën lighting signature in future production vehicles.