When John and Sunday Reed moved to Heide I cottage1 In the late 1930s, the land leading down to the Yarra River had been cleared for dairy farming and there were few trees. Over four decades, they transformed the property into a series of romantically named decorative and productive gardens: the Wild Garden, the Orchard, the Heart Garden, the Doll's House, the Violet Tunnel and, of course, the Kitchen Garden.
Evaluating the original garden at Heide I puts me in mind of an Antiques Roadshow appraisal, where an everyday object is given an intrinsic value plus a heightened value because of its provenance. The garden made by Sunday Reed and her collaborators was a perfectly lovely garden, albeit one modelled on fairly traditional English cottage gardens and French potagers, an approach in stark contrast to the progressive and unconventional ideas about art and relationships that were the basis of life at Heide. However, it is the extraordinary events and people it provided the setting for that have taken something ordinary and mythologized it, a transformation that is now an essential part of the telling of the Heide story.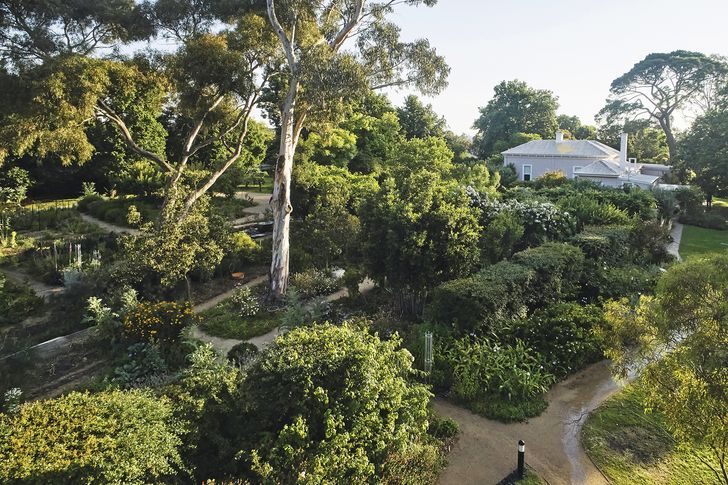 The Heide garden's dual role as subject and signifier is made clear by two key publications about its history: Sunday's Garden by Lesley Harding and Kendrah Morgan (2013); and The Heart Garden by Janine Burke (2012). Both books portray the garden as a true extension of Reed's creative endeavor, self-expression and means of living on the land she loved.
It was within this mythologically charged environment that Openwork was tasked with rejuvenating the Heide I Kitchen Garden as a sensory garden – The Healing Garden – for visitors in general and as a programmed destination for small groups with special physical and developmental needs in particular. Openwork's adaptive design approach was not to remake the site or introduce new ideas, but instead to "align with the philosophies of Sunday Reed as a place of well-being, produce, experimentation and sensory indulgence."2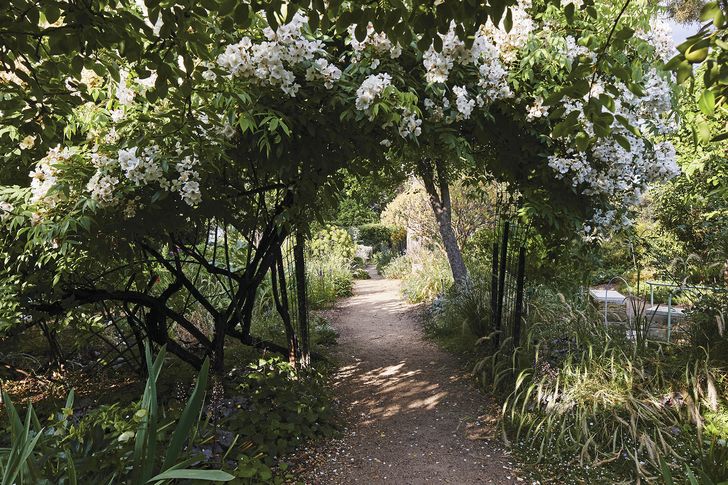 Openwork's generative design diagram inscribed a circle within the footprint of the original garden, bordered by a hawthorn hedge and brick wall, in which the sensory experience would be heightened. The retained older fruit trees, roses and eucalyptus specimens act as a layered aesthetic and microclimatic framework around which the rejuvenated garden's new planting zones are introduced: a Meadow, a Wild Garden, a Sensory Kitchen Garden, a Bush Garden and a Haptic Play Garden. New threshold treatments demarcate the intersection of the circle and the original path system, which remains sacrosanct and unchanged.
Archival planting lists were carefully studied to understand past selections and color palettes with an eye to speculation rather than mere replication. As Mark Jacques, Openwork's director, questioned: "What would Sunday have done now?" The result is a brilliant planting design full of colour, texture and structure in the manner of the New Perennial movement of Piet Oudolf – itself an extension of William Robinson's wild gardening treatise (a favorite influence of Reed's) – but distinctly woven through with Australian species .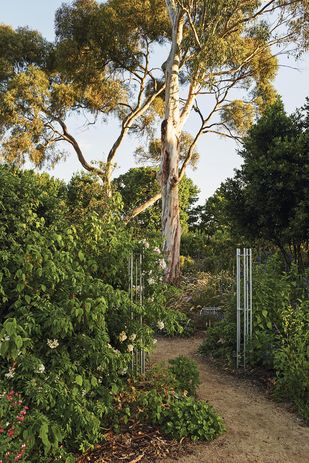 In early summer, The Healing Garden is a glorious visual and olfactory assault of overblown pink and white roses, bursting allium heads, ultraviolet cardoon thistles, and the climactic amethyst flower spikes of Verbena bonariensis (tall verbena), splashed through with red poppies and hot pink Lychnis coronaria (rose camp). Drifts of Dichelachne crinita (longhair plume grass)'s feathery plumes unify the various zones. Looking closer, unusual and delightfully chaotic planting juxtapositions are revealed: the greeny-mauve of Anigozanthos 'Landscape Lilac' (kangaroo paw) cultivar in a palette of woolly silver Verbascum; sky-blue Wahlenbergia stricta (native bluebell) ranging through a swathe of that old cottage favourite Nigella damascena (love-in-a-mist); browny-green serrated Banksia petiolaris leaves peeking out among a thatch of white verbena, bidgee-widgee and vivid emerald fishtail ferns.
The intricacy of the planting is a reflection of its making – Liz Herbert of Openwork planted the majority of the garden during lockdown and observes: "I had the good fortune to implement this project over months and learn from the act of doing, occupying, observing , and tweaking. All these things may be familiar to those that potter in their own homely indoor jungles, urban rooftops, balconies, or suburban gardens, but the duplicity of site scale, publicness, cultural overlays, expanded budget for plants and material, and the collective skills that come with an additional garden team and volunteers, find the sweet spot between personal gardening and implementing what we deliver in our professional practice."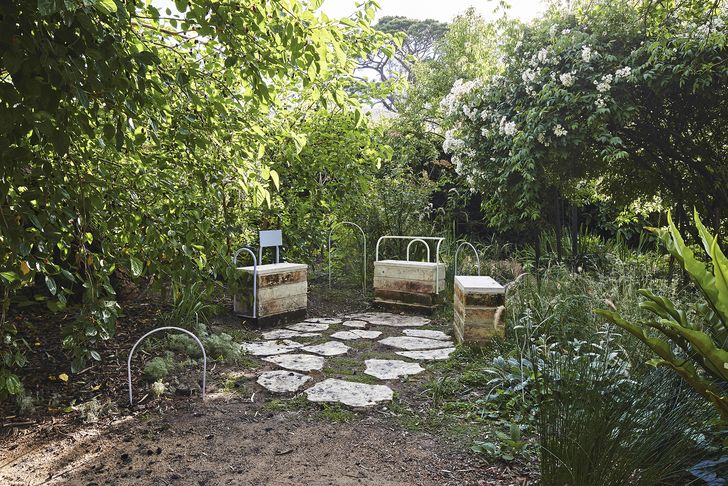 In addition to the planting is a strategy around immersion and inhabitation. Carved out of the planting beds are three seating alcoves for rest and reflection. The seats – assemblages of salvaged Mount Gambier limestone blocks from Heide II and abstracted domestic garden furniture forms – are painted in delicious soft pastel shades of pink, lilac and minty green. A limestone wall traces the edge of the circle of the original parti and frames a split basalt water feature on the edge of the path, inviting visitors to dip their hands in the cool water brimming over the edge.
The steel rod entry arbors, which unfortunately lost the arched tops of early visualizations in the permit process, have become flanking sentinels rather than bowers, but they still provide an armature for scented climbers. In lieu of didactic signage, several painted loops and hoops – part garden ornament, part sculpture – frame special features for observant viewers. Moveable, they can be staked around plants of interest as curious semaphores of seasonal change.
This design approach, reflecting the joy of experimenting with plants, seems a more dynamic narration of the story of the garden at Heide than some other previous efforts – for example, the re-created heart-shaped flower bed in the adjacent Heart Garden. Where the Healing Garden succeeds by capturing a conceptual understanding of the original garden's intent, creating a space of imagination and immersion, the Heart Garden fails by attempting to make permanent the small garden bed temporarily created by Reed to deal with the end of her relationship to Sidney Nolan, resulting in an object merely to be viewed. The Heart Garden offers no layered understanding, only a reminder of our seemingly unending fascination with the more intimate histories of Heide, emptying the story rather than expanding it.
A garden of this nature is never finished, the maintenance being as much an act of design as the original conception. It bodes well to hear that Openwork will have an ongoing advisory role and dedicated gardening time, ensuring the Healing Garden remains a place to return to and an evolving experience in space and over time.
Plant list (abridged)
Meadow: Achillea millefolium 'Christine's Pink' (yarrow 'Christine's Pink'), Agastache 'Party Lavender' (anise hyssop)Ajuga reptans 'Catlins Giant' (carpet bugle)Anigozanthos flavidus 'Landscape Lilac' (tall kangaroo paw 'Landscape Lilac'), Austrodanthonia caespitosa (common wallaby-grass), Dichelachne crinita (longhair plume grass)Echinops retro 'Veitch's Blue' (globe thistle 'Veitch's Blue'), Linum marginale (native flax), Nigella sativa (black caraway), Orthrosanthus multiflorus (morning iris), Penstemon'Alice Hindley' (Penstemon 'Alice Hindley'), Salvia officinalis'Purpurea' (purple sage)Stachys byzantina 'Big Ears' (lamb's ears), Verbena bonariensis (tall verbena), Viola hederacea (native violet), Wahlenbergia stricta (tall bluebell), Xerochrysum bracteatum 'Pink Sunrise' (strawflower 'Pink Sunrise'), Xerochrysum bracteatum 'White' (strawflower 'White')
Wild Garden: Achillea millefolium 'Mondepagode' (white yarrow 'Mondepagode'), Ajuga reptans 'Catlins Giant' (carpet bugle), Austrodanthonia caespitosa (common wallaby-grass), Brunnera macrophylla 'Jack Frost' (Siberian bugloss), Cosmos bipinnatus 'Sonata White' (white cosmos)Cyclamen coum 'White' (white cyclamen), Dichelachne crinita (longhair plume grass), Echinacea 'White Swan' (white coneflower), Ficinia nodosa (knotted club-rush), Salvia longispicata x s. farinacea 'White Flame' (Salvia 'White Flame'), Salvia officinalis 'Purpurascens' (purple sage), Viola hederacea (native violet), Wahlenbergia stricta (tall bluebell)
Bush Garden: Acaena novae-zelandiae (bidgee-widgee), Apium prostratum (sea parsley), Arthropodium milleflorum (vanilla lily), Arthropodium strictum (chocolate lily), Billardiera cymosa (sweet apple-berry), Bulbine bulbosa (native look), Chamelaucium uncinatum (Geraldon waxflower), Crowea saligna (willow-leaved crwea), Epacris longiflora (fuschia heath), Kunzea pomifera (native cranberry), Myoporum parvifolium (creeping boobialla), Plectranthus graveolens (bush basil), Themeda triandra (kangaroo grass), Viola hederacea (native violet), Wahlenbergia communis (tufted bluebell)
Sensory Kitchen Garden: Allium caeruleum (blue ornamental onion), Anethum graveolens (dill), Matricaria chamomilla (German chamomile), Origanum vulgare (common oregano), Rosmarinus officinalis 'Prostratus' (creeping rosemary), Rumex sanguineus (red-veined sorrel), Thymus vulgaris (common thyme)
Haptic Play Garden: Acacia aphylla (leafless rock water), Acacia glaucoptera (clay water), Actinotus helianthi (flannel flower), Banksia petiolaris (creeping banksia), Brachyscome multifida 'Compact Form' (brachyscome 'Compact Form'), Calothamnus quadrifidus (one-sided bottlebrush), Carpobrotus rossii (big face), Casuarina glauca 'Cousin It' (swamp oak 'Cousin It'), Mesembryanthemum 'White' (white pig face), Myoporum parvifolium (creeping boobialla), Pycnosorus globosus syn. Craspedia globosus (billy buttons), Rhodanthe anthemoides (paper daisy)Scaevola aemula (fairy fan-flower), Soleirolia soleirolii (baby's tears), Themeda triandra (kangaroo grass)
Scented Entries: Daphne odora (winter daphne), Freesia refract alba (Grandma's freesia), Lavandula angustifolia 'Pacific Blue' (English lavender 'Pacific Blue'), Trachelospermum jasminoides (star jasmine)