'Into the Maze' dazzle INSTALLATION integrates LG SIGNATURE OLED R
German artist Tobias Rehberger collaborations with LG Electronics for 'Into the Maze', a multimedia installation that immerses visitors in a dazzling labyrinth of geometric patterns. On view at Frieze London 2022 until October 16 at the LG OLED Lounge, the gravity-defying sculpture blends art and technology in a seamless manner that challenges the viewer's perception. For 'Into the Maze', Rehberger revisits dazzle painting, a camouflage technique developed for battleships by British artists during WW1, which he first introduced at the 2009 Venice Biennale cafeteria. 'It's a very strong aesthetic, very loud most of the time, very visual and visible, but then on the other hand it's made for hiding something, so the opposite of visuality somehow,' the artist explains to designboom during our interview, 'I always found that a weird and funny contradiction.'
Blurring objects into themselves, the art installation is partly displayed on the unique form factor of the LG SIGNATURE OLED TV R, an innovation made possible by LG OLED technology. Amidst an array of shapes and patterns, the TV screen rolls up to blend into its surroundings thus rendering itself almost invisible. Pattern films displayed on both rolling and static screens create optical illusions, accompanied by the musical score 'NYX', which German DJ Sven Väth has contributed for the piece.
'I came up with this idea to make this weird and abstract thing that is very unclear what it is or what it could be,' Tobias Rehberger tells us. 'I gave it a pattern and while the TV rolls up, it shows exactly the same pattern that the object itself has. This pattern starts to move and dance and go into other patterns, and at a certain moment it goes back into the same pattern as the object, and then it rolls back into the box – but in an almost invisible manner. The whole space then is a bigger version of the sculpture that I made for the TV. It's a little bit like these Russian babushka dolls, a smaller one inside a smaller one, inside a smaller one…' To find out more about 'Into the Maze', as well as his artistic practice, the dazzle painting technique, and his recent venture into NFTs, read the full interview with Tobias Rehberger below.

Tobias Rehberger and LG OLED unveil 'Into the Maze,' an OLED-powered installation that challenges viewers to 'see and unsee' in a gravity-defying labyrinth of both sculpture and technology | on view at Frieze London 2022 from October 12-16 at the LG OLED Lounge | images by Jeff Moor, unless stated otherwise
INTERVIEW WITH GERMAN ARTIST TOBIAS REHBERGER
designboom (DB): What are some of the themes you address through your work?
Tobias Rehberger (TR): It's not always exactly the same in every piece, but what ties my work is the idea of ​​functionality, and visuality, in terms of if artwork has to be necessarily something you look at or if there are other ways you can deal with it, other ways of experiencing it. And also what I always like to call 'problems', which are not necessarily problems for everybody, but whenever I think that could be thought in a different way, then I'm starting to become interested.
DB: Your artistic practice incorporates strategies, parameters or elements from different fields, including architecture, design, interiors, and maybe advertising. Is this part of the process of rethinking certain 'problems' from these fields, like you just mentioned above?
TR: I think it's more about rethinking an artwork with the help of strategies and methods that come from different fields. It's exactly the other way around. I'm not an architect, I'm not a designer, but I think I'm an artist and I'm a sculptor and I try to bring in strategies or methods from other fields in order to ask what a sculpture is. What makes it an artwork or why do we deal with it in certain ways. It's very interesting to notice how other fields deal with similar questions or similar problems, I think it's quite useful. Sometimes different fields also have a different attitude towards certain questions. Sometimes the problem, I think, is the attitude. That certain things cannot be asked or cannot be done, and if you bring that in from another field that is dealing with a similar problem with a different attitude, then I think it helps to break up structures that seem to be a very rigid. Through that 'easiness' from other fields, it's also easier to deal with it in your own field somehow.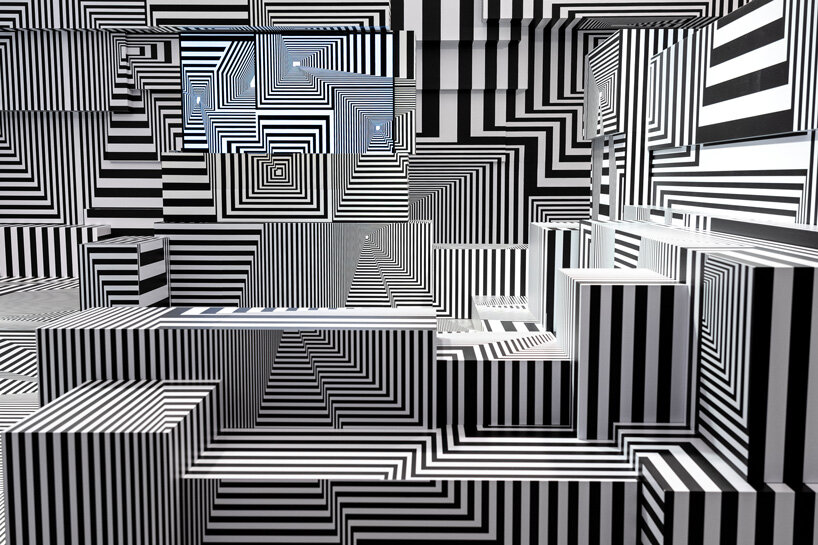 The installation seamlessly blends art and technology
DB: Do you have any example of work you've done that deals with that?
TR: I have an example of an experience with somebody else's work. There was this artwork by Richard Serra in front of the Neue Nationalgalerie in Berlin. We were in the show and, as usual, I was relatively quick and was waiting outside. It was a really hot summer day and I was sitting on this work, which is a 2 x 2 x 2m full iron block, and it felt nicely cool sitting on it. And suddenly I thought, why can you not ask the question of what they quality may be to sit on a sculpture? It's actually very nice and comfortable to sit on a sculpture. Why is that something that's not been asked what it could be?
I'm not saying it automatically is, but it could be a quality of an artwork too, you know? And somehow this question that is totally normal in another field, made me think, what are the qualities of an artwork? I always like to use this term of 'productive misunderstanding', you misunderstand something as not a sculpture only to look at, you misunderstand it and you sit down on it and suddenly it develops something that is a misunderstanding, but it is very productive on the other side.
DB: I guess it's also about infusing artworks with some kind of functionality and making them part of everyday life in a way that you can actually use them.
TR: It's not like a so called autonomous artwork doesn't have a function. It's clear that it has its function too in a different kind of context, how it's put together with other things and so on. But, certain possibilities are excluded from certain structures and I think it's always good every now and then to at least ask about things that are excluded and why they are excluded. Sometimes it makes sense that they are excluded and sometimes it makes sense that they are excluded for a certain time, but this changes constantly. For me it's always interesting to ask if it might also make sense to look at something from a different perspective.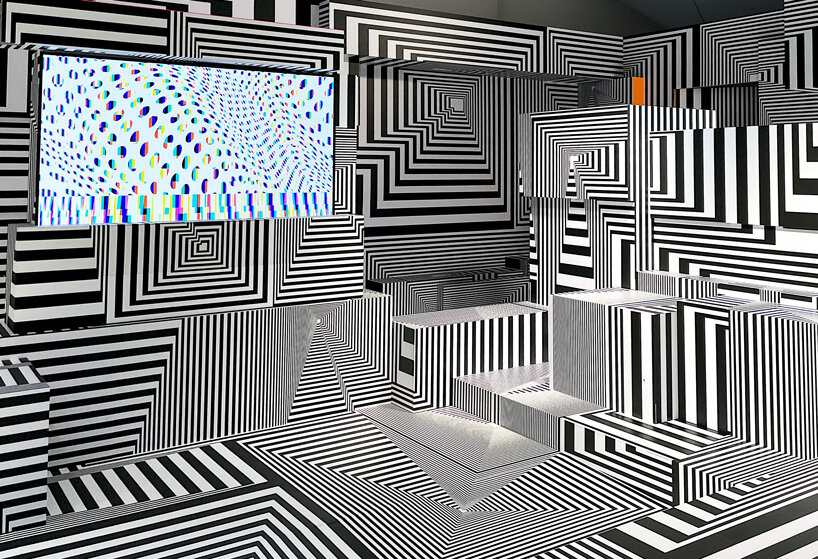 visitors are immersed in a dazzling labyrinth of geometric patterns | image © designboom
DB: What first drew your interest to dazzle painting? When was the first time you used this camouflage technique?
TR: I was interested in it for quite a while mainly because of this paradox, which kind of describes what I was just talking about. It's a very strong aesthetic, very loud most of the time, very visual and visible, but then on the other hand it's made for hiding something, so the opposite of visuality somehow. And I always found that a weird and funny contradiction. For a long time I thought of ways I could use that, and actually the first time I did use it was when I was asked to do a sculpture in the cafeteria at the Venice Biennial. At that time it used to be the Italian Pavilion, now it's called the International Pavilion. I thought maybe it's a good occasion because it is something that has a functionality that goes somewhere else, it's not the place where people would go in order to look at an artwork, but they go there to have a coffee or a sandwich. So the artwork is something they might find or see from the wink of an eye. I wanted to use it at a place where looking at art is not the main focus. It could have been a gas station, an office, a supermarket, but not a museum or a gallery space per se.
This was a good occasion because it was kind of in-between. It had to do with this idea that I just described with the Richard Serra example, that art is something you should look at, but it also might be something that you don't look at, that it also has an importance, a strength and an energy. You're not just having this confrontational relation with it, it's not just like I go somewhere, I stare at something, maybe at its best it stars back a little, but that's it. Maybe it's good to not look at it, but you know that it's around you or behind you. When I was a little child, six or eight, I was a big fan of Van Gogh's paintings and I always dreamed of having a Van Gogh painting, but it was not about hanging it on my wall, I was dreamed about sleeping on it. Not in a conscious situation, like you are sleeping, but you are sleeping on a Van Gogh, I always had this fantasy. Maybe it's coming out of that idea, that art is not just something you look at, it's more something you live with somehow.

Tobias Rehberger at 'Into the Maze' during Frieze London
DB: How do you start working on these site-specific spaces that employ the dazzle camouflage technique? Do you plan everything before applying it to the space, or is there an element of chance involved?
TR: Not necessarily chance, it's more like composing a painting. Of course the pattern making is always about a certain effect, blending the space into itself, and a certain kind of unclarity and dizziness where it's hard to see what's the foreground, or what's the background. It's very important that certain lines have a continuation in a different spatial layer and for that you have to make it very precise. We plan everything through a 3D model in the computer in a very precise manner.
DB: You are also using a similar technique for your 'Into the Maze' installation for LG, right?
TR: LG's new product, the rollable TV, is a quite beautifully made minimal object that tries to solve a problem that a lot of people have where they don't want to have this big screen in their living rooms. They solved that technically, which is quite amazing because it's this OLED screen that really rolls into a simple, small square box.
They asked me if I could use this object for some kind of artwork sculpture, and I came up with this idea to make something which is not as elegant as their box, but it's this weird and abstract thing instead that is very unclear what it is or what it could be. Then I gave it a pattern and while the TV rolls up, it shows exactly the same pattern that the object itself has. It's kind of almost like something is invisibly rolling up in front of the object itself, while the screen is also integrated in the object. You look at it and maybe you suddenly see that there is a frame where there has not been a frame before. Then this pattern starts to move and dance and go into other patterns, and at the certain moment it goes back into the same pattern as the object, and then it rolls back into the box – but in an almost invisible manner.