Brooklyn-based lighting Brand Trella's design ethos is one driven by craft and material, as well as close creative collaboration between designers, craftspeople and the client, too.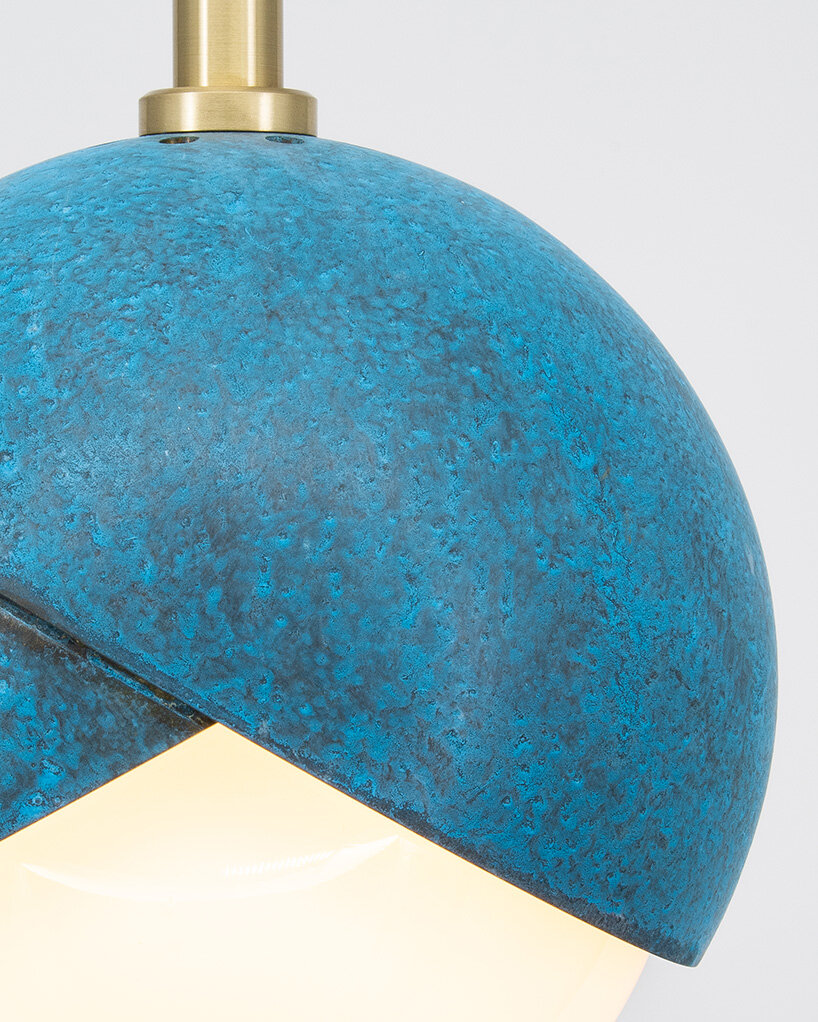 A constant dialogue between design and fabrication drives the output of Brooklyn-based studio, Trella. Experimentation and problem-solving takes place alongside the making on the shop floor
As our collective conscience challenges the ethics of mass production and the manufacturers of high-end furniture make moves towards more mindful and individually specified making, a design-and-make mentality is becoming ever more present in the industry. It's new but old. It's workshops coming to the fore and it's happening when design entrepreneurs are committed to the very 2022 preoccupations of waste-free production, individualization and durability.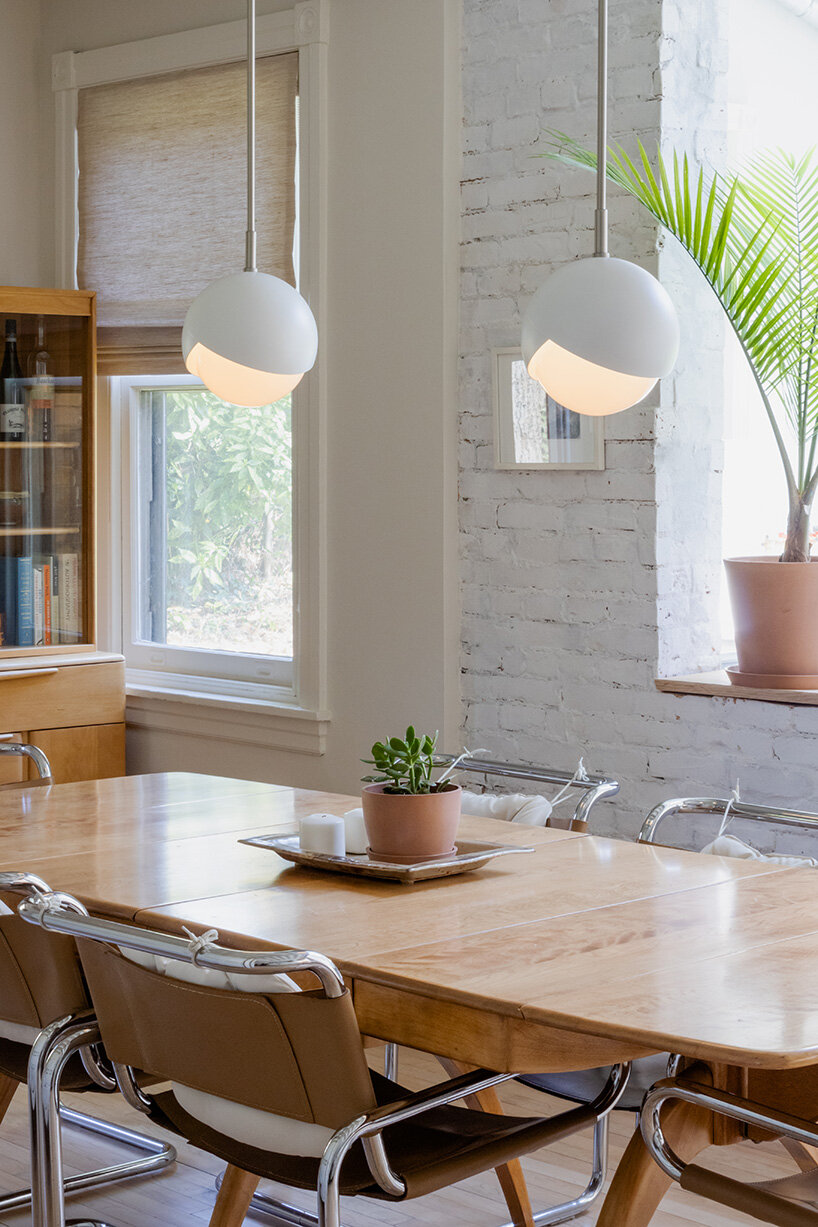 The Benedict light was the studio's founding product and has since been produced in many different metals, colors, and finishes. Prussian Blue, seen here, is the result of an oxidation process
The return of the studio-workshop
Few embody this design-and-make approach better than Trella, the Brooklyn-based brand which is both design studio and shop. Founded by trained architect Daniel Termini and former sculptor and jewellery maker Timothy Mellema, the studio is perhaps best known for its Benedict light, a globe-shaped fixture encased by two metal hemispheres cupped together. It came to be through a happy accident when the pair – skilled in wood-turning and metalworking and at the time running a workshop that supplied other local design brands – had been making the hemispheres to serve as feet for a custom furniture project. Two of them happened to fall together in a pleasing way one day and a lightbulb went off – or at least, was mouth-blown to fit the two hugging metal bowls.
The Benedict has now been produced in all manner of brass finishes including an oxidized Prussian Blue and a hand-applied antique patina, alongside nickel, pewter, and powder-coated finishes – in eleven standard colors and countless customizable colors – that can be mixed within one piece . It comes in different sizes, as a single pendant and wall sconcesa two-globe or five-globe chandeliera linear chandelier to illuminate tables or kitchen islands or in a grouping of draped pendants. In exploring the potential of this one piece, the two discovered their vocation was in fact to tinker and tailor themselves, developing their own designs from the basic working parts of a piece to the decorative finish, and then adapting and customizing them for specific projects. They would work with clients directly and a pool of local skilled makers, both in-house and externally, to produce pieces to order.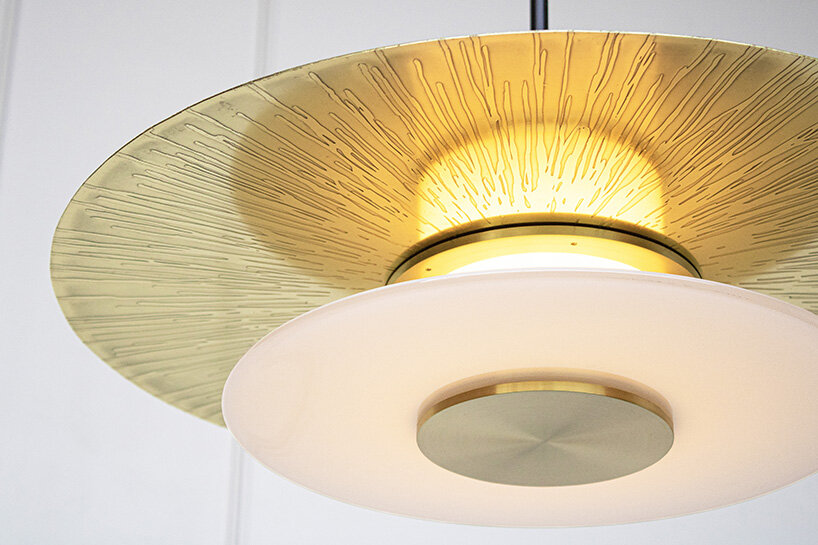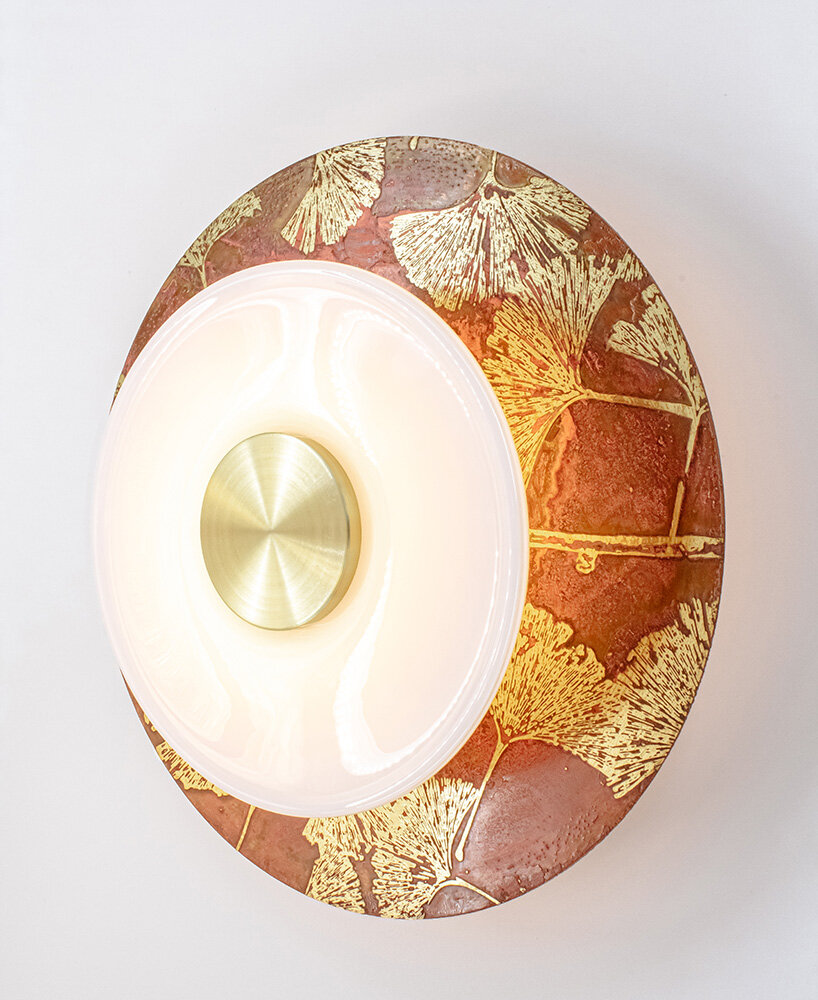 Lighting design is the studio's main focus. Benedict has been joined by the Klein family, which gains its unique textured patterns – Sunburst or Gingko Leaf – from an etching process
letting materials lead the creative practice
While Trella's practice doesn't always begin on the drawing board, its product designs evolve through an equally creative route. The pair consciously lay down their digital distractions, shut off phone lines and carve out experimentation time regularly in order to develop their practice and portfolio. From this creative time-out new patinas and finishes might emerge such as the tactile Gingko relief, which developed from experiments in etching. Gingko is a pattern so delicate that they conceived a mirror design especially to show it off at eye level. 'We celebrate what materials can do,' says Mellema while turning over and over a section of conjoined copper tubing. Issuing from a material sample that was mistakenly sent to them, he has become fixed on it, certain that it could develop into something more.
While they assume the roles of designer and maker, they leave ego aside in the development phase. When they take an idea to their glass blower, for example, the blower's nous enters the process. 'We ask him his opinion as we don't ever want to be making something that is a pain to produce; the process should be predictable,' says Termini. 'It's like cooking,' adds Mellema. 'I feel like you can tell if someone was stressed out when they were making your food.'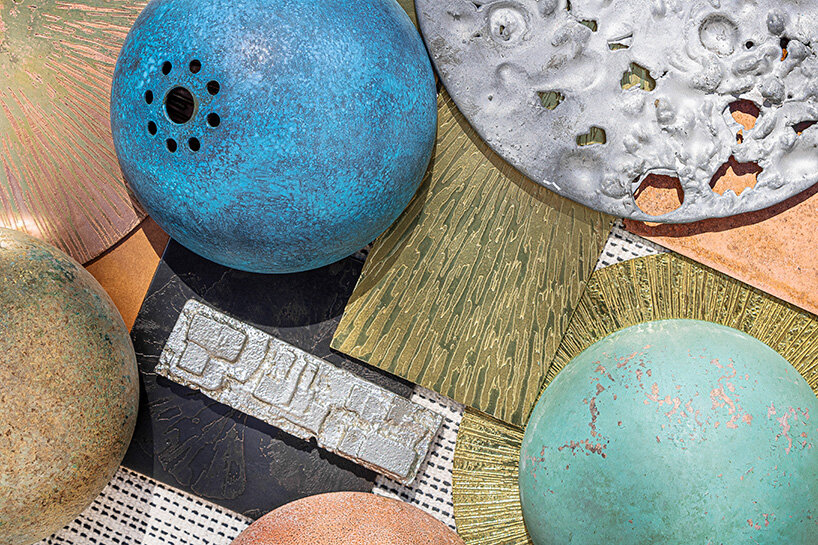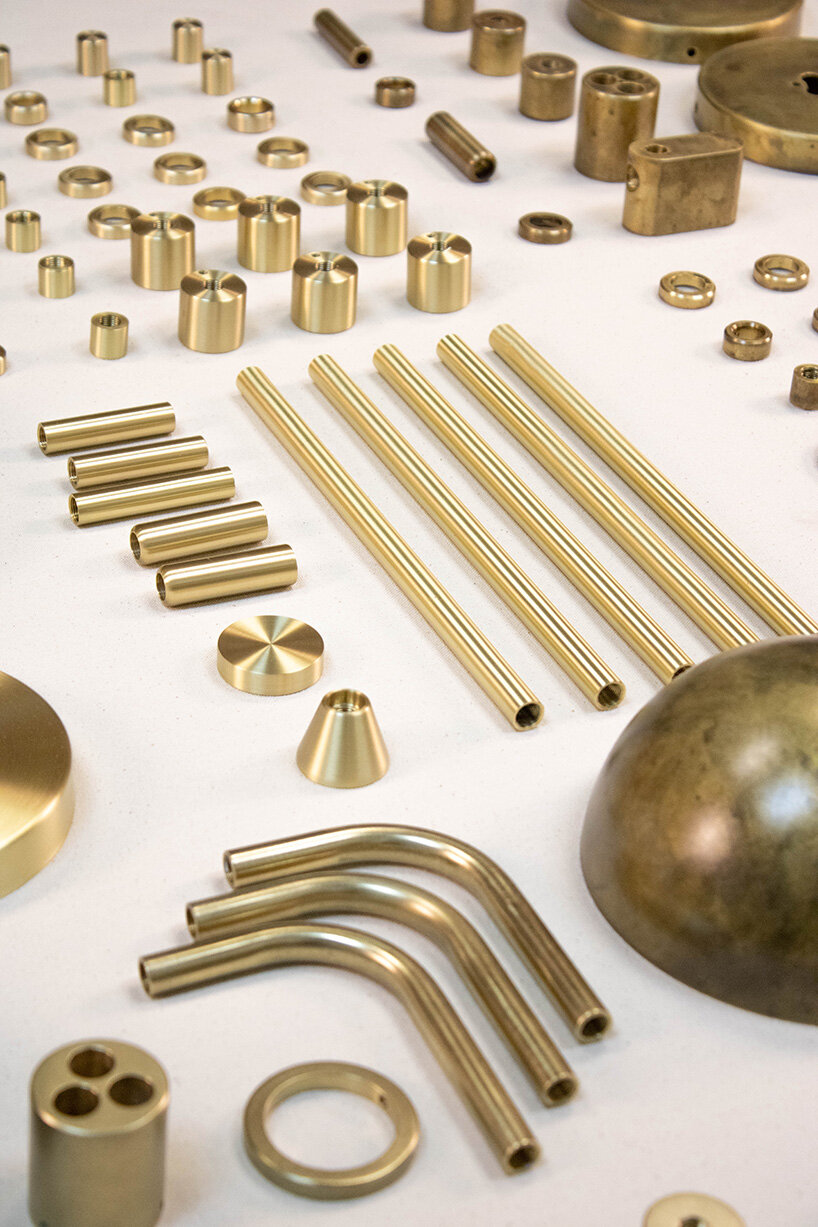 Trella's process is equal parts play and experimentation, and the efficient and precise crafting of components. All takes place in the studio, or at workshops within a 20-mile radius
poetic and practical
What evolves are pieces that are poetic and practical – and scalable. The working parts of their lighting pieces are designed in the studio and built in their workshop, so there's no secondary ordering involved when a project comes in. They have a number of studio-made stock parts they adapt to different models, and that they produce in quantity to have quickly accessed reserves – something they call 'economy of production'. The client-studio interactions then become focused on the finishing details – the exact sizing, arrangement or finish of the decorative parts. It's a model that allows production to be efficient, waste-free and adaptable.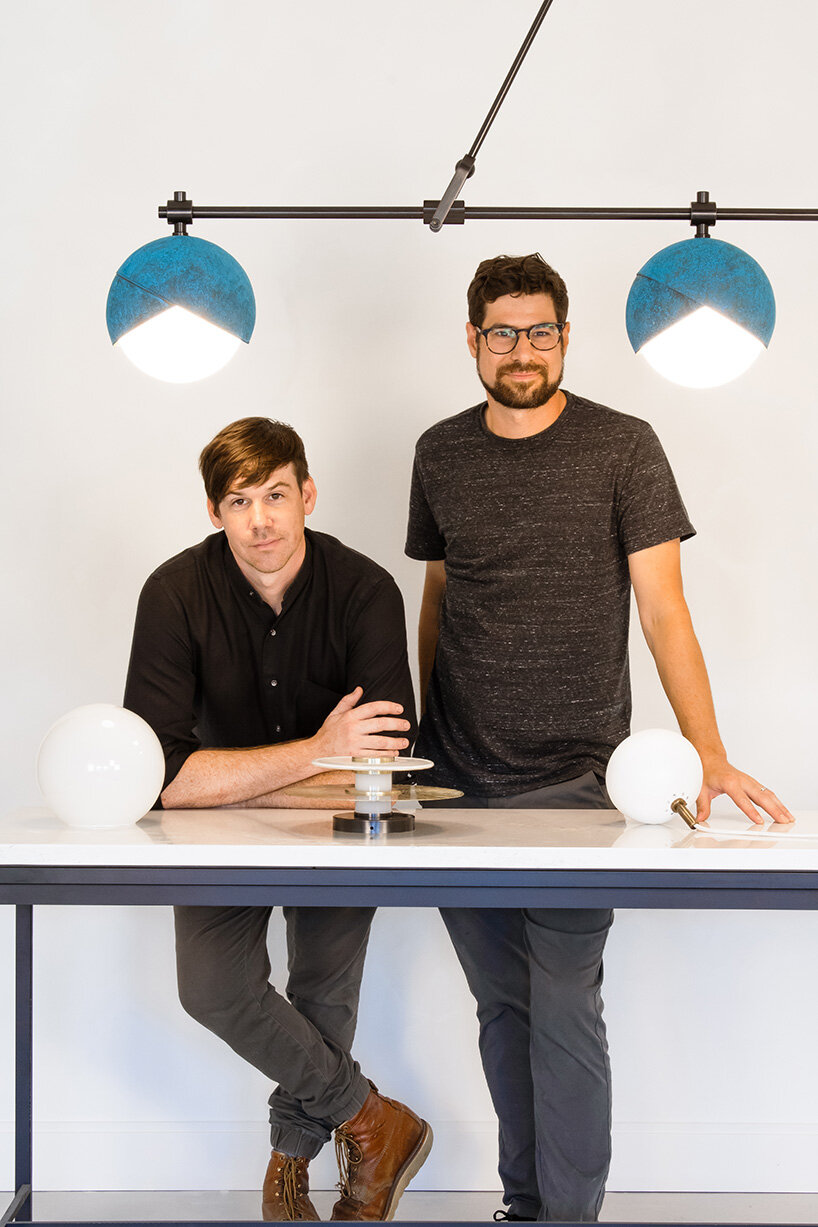 Founders Timothy Mellema and Daniel Termini bring their past experience in architecture, jewelry-making and sculpture to Trella's hands-on, waste-minimising, customisable design process
With material and craft leading the studio's design process, the pair are most proud when their precise detailing is appreciated, the exact thing that is perhaps lost on a factory production line. A fellow exhibitor of lighting at a recent trade show recently stopped to inspect their pieces, and recognising theirs were not bought-in parts, she simply said 'Nice joinery.' For Termini, this is the best compliment. 'You can keep zooming in on our pieces and I'm confident on close examination our work is still a satisfying little composition.' Considered and customizable, what could be more 2022?
Guest feature by Emma Moore / Architonic
Simon Keane-Cowell I architonic
oct 20, 2022