notable content, including japan premieres and launches
PERRIER-JOUËT & GARANCE VALLÉE – 'PLANTED AIR'
venue: ISETAN SALONE TOKYO MIDTOWN, Galleria 1F Promotion Space 9-7-4, Akasaka, Minato-ku, Tokyo
Perrier-Jouët releases the world premiere in Japan from a collaborative artwork, 'Planted Air,' created by French artist, architect, and designer Garance Vallée. This work expresses the dialogue between the two pillars that support the Maison Perrier-Jouët: art and nature. Reinterpreting the ecology of the Perrier-Jouët vineyard, the work's extensive use of curves and arabesques represents Art Nouveau from a contemporary perspective. The materials chosen are unique and artisanal, and the solid, hand-carved limestone blocks evoke the terroir of Champagne. The wrought iron, which was painstakingly forged by craftsmen, is reminiscent of the main gate of the Maison Belle Epoque in Epernay.

Perrier-Jouët and Garance Vallée 'Planted Air'
SANLORENZO JAPAN MEETS KAZUTO IMURA
venue: MA5GALLERY by SANLORENZO JAPAN 5-10-17, Minami-Aoyama, Minato-ku, Tokyo Curated by DESIGNART
material and technical cooperation: UNOU JUKU by AGC Inc. MakershipInc.
Coinciding with the pre-launch of SANLORENZO JAPAN, artist Kazuto Imura's solo exhibition 'Æ/æ' will be held at MA5 GALLERY, which will serve as a platform for SANLORENZO JAPAN's Art & Design. For the first exhibition there, Imura has created mirrors that 'do not reflect yourself.' Through examining materials and techniques that have been used in mirror production, he relives the history of the human-mirror association. The title 'Æ/æ' was inspired by the technique he used with a focus on the mirror construction, where he superimposes the phenomenon caused by the materials' composite nature during the mirror-making process onto a reflected image.
TEAMLAB, CONTINUOUS LIFE AND DEATH AT THE NOW OF ETERNITY AT VOLVO STUDIO AOYAMA
venue: VOLVO STUDIO AOYAMA 3-3-11, Kita-Aoyama, Minato-ku, Tokyo
Volvo Studio Aoyama will display 'Continuous Life and Death at the Now of Eternity' by the art collective teamLab. This will be exhibited in conjunction with another art exhibition by teamLab and sponsored by Volvo Car Japan, VOLVO teamLab: A Forest Where Gods Live. It is held at Mifuneyama Rakuen in Kyushu, where the vast forest, megaliths, caves, and other natural features of Mt. Mifuneyama, become art in themselves.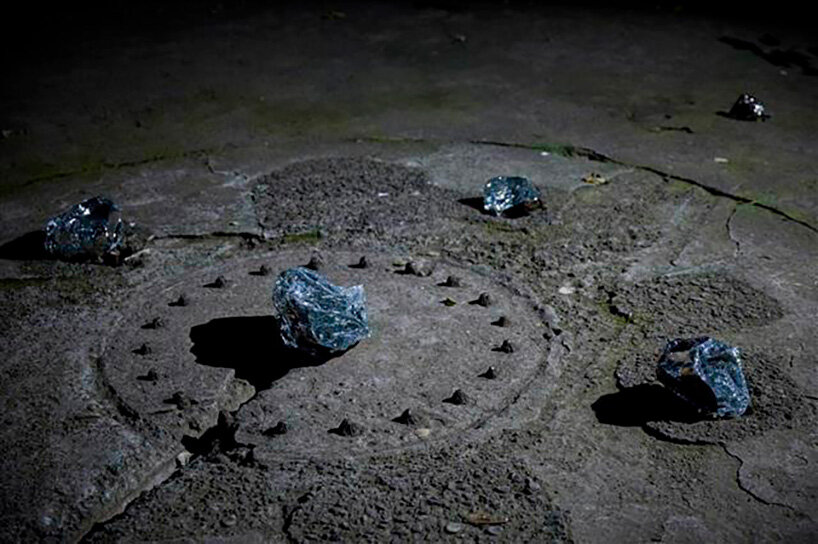 mirror in the rough | photo by Naomi Circus / Kazuto Imura
a space where fashion and art blend with each other
PRADA PRESENTS THE EXHIBITION 'WHO THE BÆR'
venue: Prada Aoyama 5-2-6 Minami Aoyama, Minato-ku, Tokyo 5th floor
Prada presents the exhibition 'Who the Bær' by Simon Fujiwara, organized with the support of Fondazione Prada, at Prada Aoyama.'Who the Bær' is a cartoon character created by the artist that takes inspiration from fairy tales, fantasy literature, animation and the exhibition explores a plurality of topics belonging to different realms: from the climate collapse to cultural appropriation, from plastic surgery to Pop-art through the coming-of-age story of 'Who the Bær'.
'VISITORS' BY CHRISITAN HIDAKA & TAKESHI MURATA AT MAISON HERMÈS FORUM
venue: GINZA MAISON HERMÈS Le Forum 5-4-1 Ginza, Chuo-ku, Tokyo
Christian Hidaka (b. 1977, Chiba, Japan, lives and works in London, UK) and Takeshi Murata (b. 1974, USA, lives and works in Los Angeles) will hold the co-exhibition 'Visitors' at Maison Hermès Forum in Ginza. Through the worlds of these two artists, who continue to create works that interrogate the space between reality and fiction, the exhibition will highlight the fictional structure seen in contemporary art through two narratives.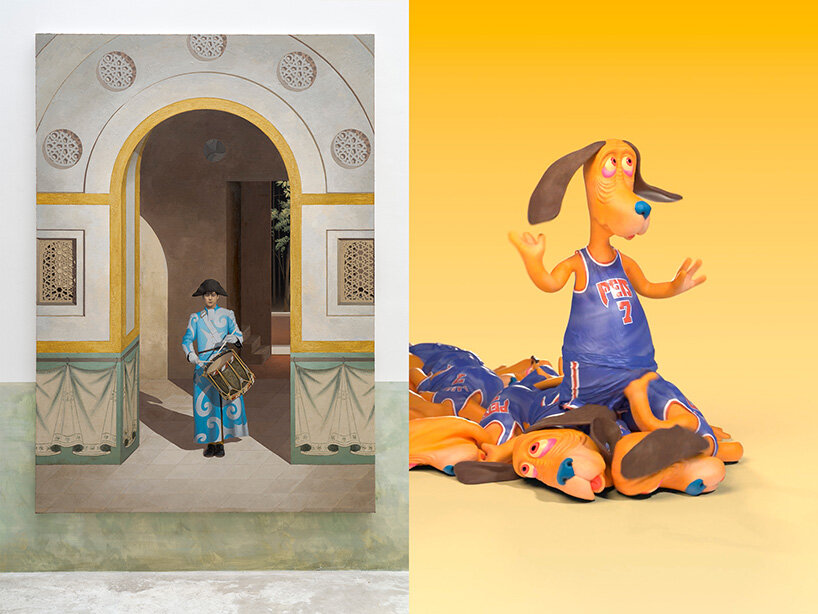 Hugard & Vanoverschelde (left) | courtesy of the artist (right)
AYAME ONO AT PERVERZE THE EMBODIMENT STORE
venue: PERVERZE THE EMBODIMENT STORE 5-5-1, Minami-Aoyama, Minato-ku, Tokyo
Established in Tokyo in 2016 by an anonymous collective of young creatives, PERVERZE is both a fashion brand and a project, will have a collaborative exhibition with artist Ayame Ono at PERVERZE THE EMBODIMENT STORE, which opened in March 2022. While utilizing the structure of the store, this exhibition will incorporate PERVERZE's archive of textile patterns and materials created up until now, forming a collage of works where various layers intersect.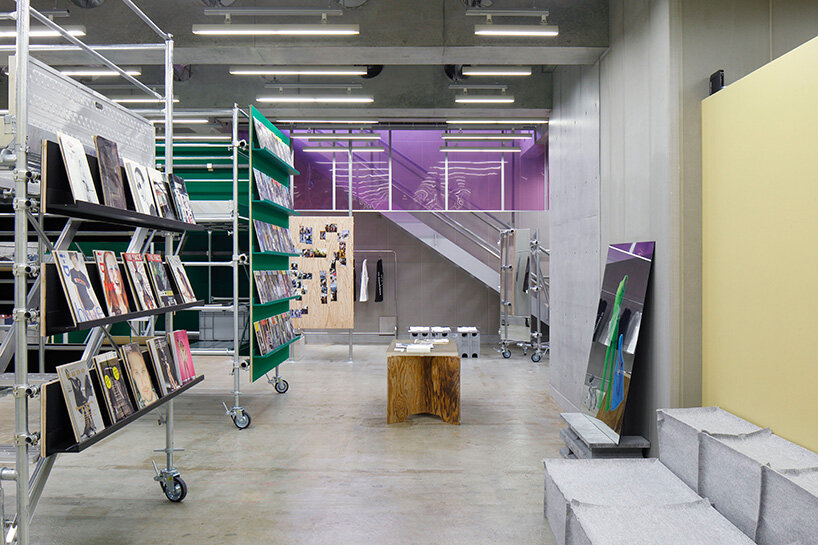 Ayame Ono at PERVERZE THE EMBODIMENT STORE
experience of technology x art
METAVERSE BOUNDARY
how to participate: Real Space/ ANB Tokyo 3rd floor 5-2-4, Roppongi, Minato-ku Tokyo
virtual space: METAVERSE ROPPONGI official website
The metaverse, such as digital twins, is a recent hot topic. What would people do if a metaverse city is shrouded in darkness? What is it like if a mirror physically exists at the boundary of the virtual and real? This is an experimental artwork by ExMetaClub x TV Asahi, which considers the viewer's (avatar's) experience and behavior in the metaverse space itself as the artwork. "The gorgeous and light-filled METAVERSE ROPPONGI" will be turned into the "Black METAVERSE ROPPONGI" for a limited time. This interactive artwork is simultaneously exhibited physically and virtually. *The exhibit will tour different locations.
MEDICALART – TURNING YOUR HEALTH CONDITION INTO ART FROM MEDICAL DATA
venue: UN GRAIN | Premiere Building 1F, 6-8-17 Minami-Aoyama, Minato-ku, Tokyo
Medical Art is produced by five creators with diverse backgrounds (designer, planner, engineer, graduate school lecturer, etc.). The data they collected themselves (eg, facial expressions, behaviors, and health information) are combined and redefined based on modern medical data to create an artwork of the inner self. 'Medical Data x Art' will offer an opportunity to learn about the unknown inner self and to improve wellbeing. At the venue within patisserie UN GRAIN shop, renowned for MIGNARDISES (bite-sized sweets), visitors can purchase sweet treats while enjoying an artistic vibe.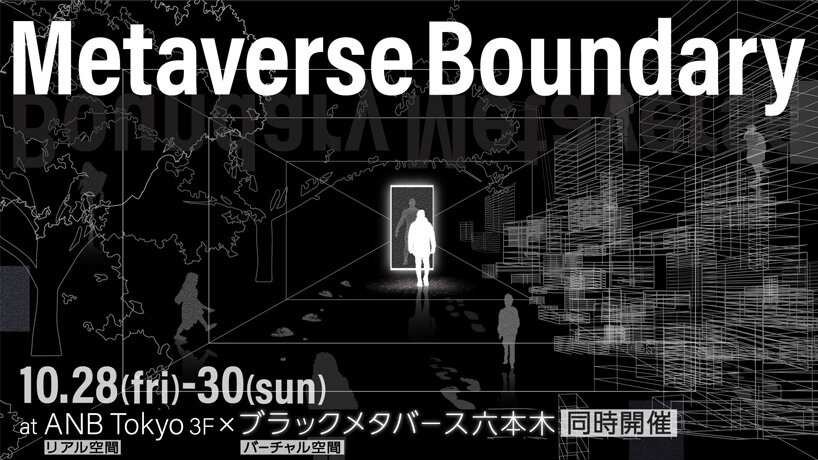 Metaverse Boundary
interior: new collections and presentations by interior brands
FLEXFORM 2022 NEW COLLECTION
venue: FLEXFORM TOKYO 6-4-10, Minami-Aoyama Minato-ku, Tokyo
FOCUS / YUJI OKITSU AT ROYAL FURNITURE COLLECTION
venue: ROYAL FURNITURE COLLECTION SHOWROOM 2-12-4 Sakamoto Bldg. 1 F Kita-Aoyama, Minato-ku, Tokyo
ARIAKE WITH LE KLINT /BANG&OLUFSEN / BELAIR LAB
venue: #103 4-1-15 Minami-Aoyama , Minato-ku, Tokyo
'DISECT' SATOSHI KAWAMOTO × AMBIENTEC
venue: LIGHT BOX STUDIO AOYAMA 5-16-7, Minami-Aoyama Minato-ku, Tokyo
PATIO PETITE AT GINZA INNIT
venue: GINZA innit 7-10-1 2F, Ginza, Chuo-ku, Tokyo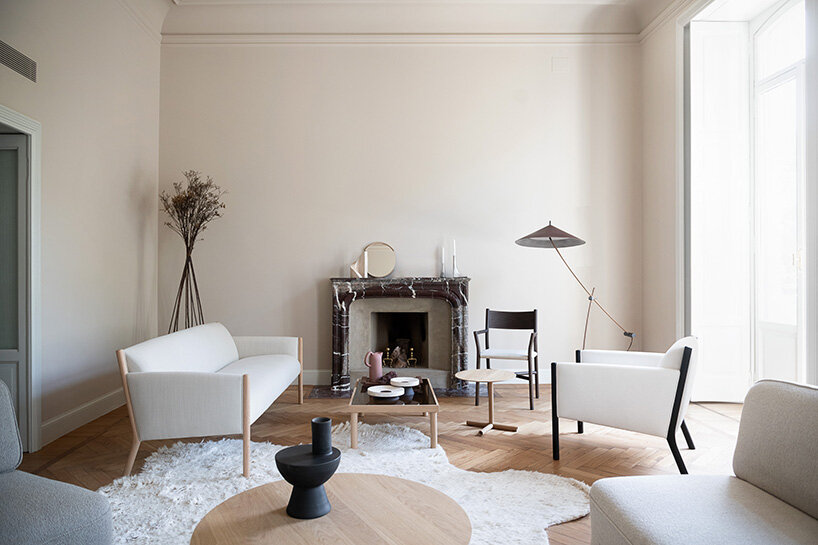 Ariake with Le Klint / Bang&Olufsen / Belair Lab
art: from interactive installations to established galleries
FEEL HOTEL TOGETHER AT ALL DAY PLACE SHIBUYA
venue: all day place Shibuya 1-17-1, Shibuya, Shibuya-ku Tokyo
Directed by a green's scenting designer Megumi Fukatsu, 'Feel Hotel Together,' an installation themed on the merging and connection of the five senses, will be held at all day place shibuya. A diverse group of next-generation designers and artists will come together to create works of art.
JULIAN OPIE AT MAHO KUBOTA GALLERY
venue: 2-4-7 Jinumae Shibuya-ku Tokyo Japan
Maho Kubota gallery, located in Jingumae, an area of ​​cultural crossover between Harajuku and Aoyama in Central Tokyo, will hold a solo exhibition of new paintings and new animations featuring 'Dance' by Julian Opie, one of the UK's leading contemporary artists today.
THE FUTURE ETERNAL
venue: A LIGHTHOUSE CALLED KANATA Kasumicho Terrace 6F, 3-24-20, Nishi-Azabu, Minato-ku Tokyo
A Lighthouse called Kanata, a contemporary art gallery that introduces Japanese to the world, is bringing together works by up-and-coming artists in The Future Eternal exhibition. Rather than following the transient trends of contemporary art, the highlight of the exhibition is the universal yet progressive abstract works that connect the past and the future. The exhibition will feature ambitious three-dimensional and two-dimensional works that combine materials and outstanding techniques to embellish contemporary spaces.
OMOTESANDO REPLICA
venue: Omotesando hills 4-12-10 Jinumae, Shibuya-ku, Tokyo main building large staircase